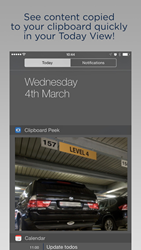 Cupertino, CA (PRWEB) June 06, 2015
People who want to save valuable time and add convenience to their digital lifestyle, and be among the very first in the world to enjoy what could be one of 2015's coolest and most innovative widgets, can now head over to the App Store and download Clipboard Peek by Masters & Savant.
Currently available for iPhone, Clipboard Peek lets users simply and quickly see the content they've copied to their clipboard in their iOS Today view. As a result, with a single swipe down, users can instantly glance at their photos, to-do lists, grocery lists, driving directions, meeting notes, and anything else. If they wish, users can also check out their clipboard content even if their iPhone is locked.
In addition to the ease of viewing current clipboard content, the Clipboard Peek app also allows users to save clipboard content indefinitely, which can then be viewed in an Instagram style timeline and retrieved at a later date.
The companion Apple Watch app is a great way for users to interact with their new hardware, as well as show off their new device. Its an innovative and convenient way for users to conveniently view the clipboard contents on their wrists. A world first for the Apple Watch.
The Apple Watch glance shows the last clipboard item saved, and the Apple Watch app shows all the clipboard items currently stored in "Saved".
"The early response to Clipboard Peek has been overwhelmingly positive, with users telling us that they're relying on the app many times throughout the day to save time, stay organized, and make their lives easier," commented Roger Smythe of Masters & Savant. "And we think the Apple Watch integration is going to have an even bigger impact worldwide, because it's the ideal app to coincide with what is going to be an exciting and unprecedented new era in wearable technology".
Clipboard Peek for iPhone is available now from the App Store at: https://itunes.apple.com/app/clipboard-peek/id936557925.
iPad support will be coming in the near future.
A Clipboard Peek trailer video is available at: http://mastersandsavant.com/?portfolio=clipboard-peek
For all other information including media inquiries, contact Mark Johnson on behalf of Masters & Savant at +1 408 757 0156 or press(at)appshout(dot)com.
About Masters & Savant
Based in Johannesburg, South Africa, Masters & Savant creates animated, live action, photographic and illustrated ad campaigns across any media, as well as innovative mobile apps including Clipboard Peek. The company has won over 70 awards and counting, including a Loerie Grand Prix, Loeries Golds, Silvers, innumerable Promax awards, and several international awards such as the Huesca and Mobius awards.
Learn more at http://mastersandsavant.com