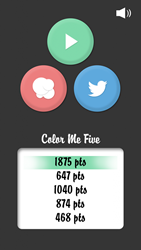 Cupertino,CA (PRWEB) March 13, 2015
Leonardo da Vinci once said that "simplicity is the ultimate sophistication." Well, if LdV was alive today and in search of an app worthy of this sentiment, he'd definitely fall in love with the new tile matching game app Color Me Five.
Developed by Christine Tseng, Color Me Five is an insanely addictive and utterly original gaming experience that takes seconds to figure out, minutes to start enjoying, but perhaps a lifetime to completely master -- which means that unlike the vast majority of games in the App Store, boredom and predictability are not issues.
Here's how Color Me Five is played: users start out with a 5 x 5 grid that is populated with a smattering of tiles. Each tile has 1, 2, 3 or 4 dots. Users must strategically slide two tiles together, so that the sum total of their combined dots equals 5. Once that happens, a new tile with 5 dots is created.
However, that's just the start -- because Color Me Five has a fresh twist that is both creative and challenging. Users can also combine two of the aforementioned "5 dot" tiles together, which results in one of the dots being colored. When all 5 dots are colored, the board itself changes color (for example, from green to purple and so on), and the two tiles merge to create space for a new randomly generated tile to appear.
In this way, Color Me Five features infinite gameplay and endless variety. Users can literally continue playing for hours, days, weeks or months -- provided, of course, that they continue to strategically create and combine 5-dot tiles. Once they are out of moves, the game ends and users start over to try and beat their high score.
While all of this is happening, users enjoy original music and sound effects, plus they can share their high scores via Twitter. They can also compete with friends and other Color Me Five addicts via the Game Center.
"Our vision with Color Me Five was to create something simple and intuitive so that anyone could start playing right away, yet sophisticated and clever so that there would always be a new, exciting and fun challenge ahead," commented Christine Tseng of Blu Hot.
Color Me Five, the insanely addictive and utterly original new app that features infinite gameplay and variety is available now from the App Store at https://itunes.apple.com/app/color-me-five/id957216228. The app is available for $0.99, and compatible with iPhone, iPad and iPod touch.
Additional app information, including screenshots, is available at http://bluhot.com. For all other information or media inquiries, contact Mark Johnson on behalf of Blu Hot at +1 408 757 0156 or press(at)appshout(dot)com.
About Blu Hot / Christine Tseng
Blu Hot is a recently-launched app development firm that is planning on releasing several exciting apps throughout 2015, including the titles "Color Me Five" and "Ice Tinies."
Learn more at http://bluhot.com