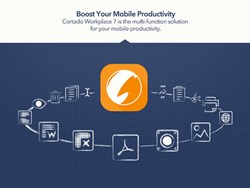 iOS 7 has clearly set new standards in terms of design and usability.
Cupertino, CA (PRWEB) February 13, 2014
Cortado, leading provider of enterprise mobility solutions, offers an optimized version of its free productivity app, Cortado Workplace, for iOS 7. Cortado Workplace 7 includes an entirely revised file management concept in addition to a completely new usability and design approach.
The move to iOS 7 is continuing at a rapid pace. According to data from Apple developer support, 82 percent of the devices used in the App Store already use the new operating system.
To complement Apple's latest operating system, Cortado has completely redesigned its free cloud storage and productivity app Cortado Workplace. Most importantly, the design and the user interface are fully harmonized with iOS 7. Any design elements lacking functionality have been completely eliminated in favor of the main features: mobile management, sharing, and printing for files and documents.
Cortado Workplace 7's file management concept has been significantly improved and made far more intuitive for users, making finding their way through the app easier than ever. Among the new features is an Inbox, allowing users instant access to all downloaded files. Also, the redesigned search function makes working with the app far easier.
"iOS 7 has clearly set new standards in terms of design and usability," said Carsten Mickeleit, CEO of Cortado. "Our goal for Cortado Workplace 7 was to completely redesign our app and to fully implement the iOS7 approach without losing the focus on functionality."
For further information on Cortado Workplace 7, visit:
https://workplace.cortado.com/en-us/ios7.aspx
The app is available for iPad and can be downloaded for free from the App Store. It will be available for other platforms soon.
Cortado Corporate Server 7, the on premise solution that implements enterprise mobility for businesses, already supports all iOS 7 business features. A free demo version is available at http://www.cortado.com/ccs7-demo.
This press release and the press photo are available online and ready for download: http://www.cortado.com/press.