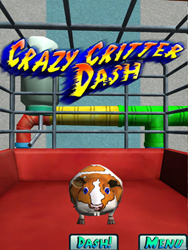 Cupertino, CA (PRWEB) June 04, 2014
Red Tentacle Studios is very excited to present Crazy Critter Dash, a new take on the endless runner genre. The player controls a critter (hamster, chinchilla or rabbit) trying to escape from their owner. Dash, slide, and jump past letter blocks, jack-in-the-boxes, marbles, and much more. Free fall from a second story window, which leads to an escape through a backyard littered with rakes, ponds, and lawn darts. The player will have to brave the treturous stairway with slinkys, rollerskates, and many other traps in the way. The object of the game is to see how far the player can go, food pellets they can collect and to get the high score.
In Crazy Critter Dash, the player frantically swipes their way past tons of fun obstacles. They will choose from three highly customizable critters, select a power-up, then upgrade any abilities, then dash for a new high score! There are multiple areas that all play slightly differently, changing up the setting and pace.
This game accessible to all ages and fun for anyone and everyone and a trailer video is available to view at: http://youtu.be/ycGJ2Ek29kM.
Crazy Critter Dash also features:
■ A new take on the endless runner genre with loads of personality.
■ Beautiful HD graphics with lots of different environments, critters, costumes and more.
■ Vast amounts of cute and cuddly customizations. Dress up the critters in all sorts of fun costumes and change their fur.
■ Get Food Pellets and Treats to unlock critters, costumes and power-ups.
■ Engaging for kids and adults alike.
In addition to Crazy Critter Dash, Red Tentacle Studios has also produced "AntiViral", "Tap the Glass" and "Tap the Glass Kids" (all for iOS and Android).
The iOS version of Crazy Critter Dash is available now in the App Store at:
https://itunes.apple.com/app/crazy-critter-dash/id879172938
A dedicated Android version for tablets and mobile is also available via Google Play at:
https://play.google.com/store/apps/details?id=com.redtentaclestudios.critterdash
About Red Tentacle Studios
Founded by two artists who previously worked together on third-party projects (outfits, pets, mini-games etc.) for Playstation Home at a company called Heavy Water. They enjoy being able to work on their own projects now. Our programmer is newly out of school, but awesome. He enjoys participating in game jams.
Learn more: http://www.redtentaclestudios.com
Facebook - http://www.facebook.com/crazycritterdash
Twitter - (at)Red_Tentacle