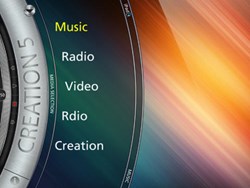 Cupertino, CA (PRWEB) August 28, 2013
Originally designed for the BeoSound 5 and first released in July 2012, Creation 5 has already gained a reputation as the "must have" luxury music app. Now it has taken it's stand as the first app in the world to bring together Music, Video, Radio, Music Streaming, Social Sharing, DLNA and Airplay features. All in one app. Always with the same luxurious interface. No switching apps. Ever. Creation 5 delivers pure entertainment without any advertisements, even in the free version.
Creation 5 has joined forces with RDIO the music streaming service with on-demand, advert free access to 20.000.000 + songs and you can enjoy 6 months complimentary subscription!
Another really handy new feature is the option to link directly to iTunes and buy the song that's currently playing on the radio. And with access to 40.000 radio stations worldwide– there's bound to be something playing that you like.
The most popular feature of Creation 5 is finding and assigning video clips – for any song that's currently playing: from your collection, on the radio or on Rdio. You can then make video playlists from these, or just save them to your YouTube favourites.
What does Creation 5 do?
Creation 5 organises media – Music, Video, Radio, Streamed music from Rdio and Podcasts – and presents it all from one single luxurious interface.
> Finds YouTube video clips for any song in the collection and for any track currently playing on the radio or on Rdio. Videos can be saved to favourites, shared on social networks or used to create video playlists.
> Imports iTunes playlists and allows creation & editing of playlists in seconds.
> Access to 40,000+ radio stations worldwide.
> Search for radio stations by artist.
> Buy currently playing track immediately via iTunes.
> Enter the world of music-streaming with up to 6 months complimentary subscription to Rdio (restricted to 2 weeks in certain countries).
> Full screen album artwork
> Supports FLAC audio files (as well as WMA) for higher sound quality.
DLNA or Airplay
> Automatically finds DLNA devices on the network.
> Link multiple devices and stream local content.
> Easy set up for Bang & Olufsen BeoSound 5 and other DNLA systems. Just plug & play.
> Personalize menus with custom photographs.
Creation 5 PRO is available now in the iTunes App Store:
iPhone PRO version
https://itunes.apple.com/gb/app/creation-5-pro-play-music/id635311794
iPad PRO version
https://itunes.apple.com/gb/app/creation-5-pro-play-music/id516596690
Free versions with In-App Purchase are also available at:
iPhone version
https://itunes.apple.com/app/creation-5-play-music-radio/id675813323
iPad version
https://itunes.apple.com/app/creation-5-play-music-radio/id675817870
Download a selection of high res images and videos from the Press page of the Creation
website: http://www.creation.com.es/press
Take a look at their active and popular Facebook page:
https://www.facebook.com/creation5app
About Creation™
Creation started life with the challenge of designing the best possible user interface experience for people who wanted to manage their Home Technology in a simple and enjoyable way. They believe that simplicity is at the heart of good design.
Creation is associated with Bang & Oulfsen Marbella - where they have been working with end-users for more than 30 years. Their success is generated from listening to customer feedback and applying it to the development of their world-class products.