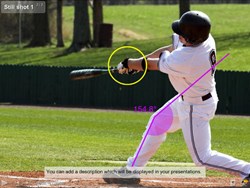 Since its initial release, Dartfish Express has emerged as a globally trusted and acclaimed mobile video coaching app for all sports
Cupertino, CA (PRWEB) October 30, 2013
Athletes and coaches worldwide who want to dramatically and rapidly improve their results can finally access all Dartfish Express features on their new or updated iPad or iPhone, now that the latest version of the 2013 Tabby Award-winning app is fully iOS7 compatible.
Developed by Dartfish, Dartfish Express – which was featured in the Apple Air Keynote video on October 22, 2013 -- is a globally acclaimed mobile coaching tool that that enables coaches and athletes in any sport to easily record performances using their device's built-in camera, and conduct an extremely detailed slow motion or frame-by-frame analysis to verify proper form and technique -- and just as importantly, to spot and fix errors.
In addition, coaches and athletes who download Dartfish Express will also be able to quickly and easily:

Import videos from their device's camera roll, from email, or from any app
Zoom into each video to precisely monitor every detail
Apply powerful built-in analysis tools used by professional coaches
Use drawings, labels, animated arrows and angles to illustrate each coaching opportunity
Capture feedback and ideas via voice or text notes
Share still shots or complete full-screen videos with select recipients via Facebook, Twitter or email
Label videos with terms from a customized glossary
Publish enriched videos directly to their complimentary Dartfish.tv channel
"Since its initial release, Dartfish Express has emerged as a globally trusted and acclaimed mobile video coaching app for all sports, including baseball, softball, golf, tennis, track and field, swimming, weightlifting, fitness training, football, basketball, gymnastics, skiing and more," commented Victor Bergonzoli of Dartfish. "And now that the latest update makes the app fully iOS7 compatible, even more coaches and athletes can use it to perfect their skills, and achieve their potential – anytime and anywhere!"
The newly-updated iOS7 compatible version of Dartfish Express is available from App Store at https://itunes.apple.com/app/dartfish-express/id563892532. Additional app information, including screenshots and videos, is available at http://www.dartfish.tv/DartfishExpress.aspx.
For more information or media inquiries, contact Mark Johnson on behalf of Dartfish at +1 408 757 0156 or press(at)appshout(dot)com.
About Dartfish
Dartfish develops video solutions to make the power of video accessible to millions of users and empowers them to create, enrich, publish, and monetize video content. Dartfish is trusted by thousands of sport organizations to create and distribute video content. It sets the video standard across sport, education, and healthcare industries. Its video platform, http://www.dartfish.tv is today's trusted choice selected by elite organizations, federations, and corporations from around the world. Dartfish is privately held, with Worldwide Headquarters in Switzerland, and U.S. Headquarters located in Alpharetta, GA.
For additional information, visit http://www.dartfish.tv.