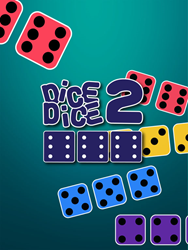 Cupertino, CA (PRWEB) September 22, 2016
People who love puzzle games – and want a refreshing change from the ordinary and predictable – can now head to the App Store or Google Play and download the fun, addictive and elegant new offering Dice2Dice.
Available at no cost and created by Zada Mobile, Dice2Dice is easy to understand, yet challenging to master. Here's the gameplay:
Users are presented with a play area featuring 36 dice (6 x 6). The goal is to match to at least two similarly-numbered dice that are adjacent to each other (horizontal or vertical), and clear them from the board (empty slots are immediately replaced with a new dice). Users can also connect similarly-numbered dice that are in a box shape. While these box combinations are worth more than connecting adjacent dice, they're also rarer and harder to spot.
The more dice that users manage to swipe from the board, the more points they earn. However, there are a limited number of moves available, and so it's important to think strategically and make every swipe count.
In addition, to help users rapidly identify matches, similar-numbered dice are also similarly-colored. For example:

Dice with "1" spot (a.k.a. pip) are all green
Dice with "2" spots are all orange
Dice with "3" spots are all yellow
Dice with "4" spots are all purple
Dice with "5" spots are all blue
Dice with "6" spots are all red
This mix-and-match of colors also makes Dice2Dice beautiful to look at, which is a thoughtful design feature by the folks at Zada Mobile.
Other special Dice2Dice features include:
Great sound effects (mute optional)
Direct Facebook connection to compete against friends
High score & latest score trackers
"The feedback we're getting from users around the world is incredible!" commented Aytug Gundogdu of Zada Mobile. "People of all ages love how simple yet challenging the game is. They also appreciate the beautiful, colorful design and special features."
Dice2Dice the fun, addictive and elegant new puzzle game, is available now for iPhone and iPad from the App Store at https://itunes.apple.com/app/dice2dice/id1122191838, and for Android smartphones and tablets from Google Play at https://play.google.com/store/apps/details?id=com.zadamobile.dices.
There is no cost to download the app.
For additional details, including screenshots, visit http://www.dice2dice.com.
For all other information or media inquiries, contact Mark Johnson on behalf of Zada Mobile at +1 408 757 0156 or press (at)appshout(dot)com.
About Zada Mobile
Zada Mobile is a startup company which is located in Istanbul, Turkey. Incorporated at the beginning of 2016, our purpose is to develop funny casual games for mobile phones and tablets.