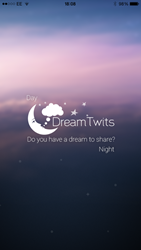 Cupertino,CA (PRWEB) March 13, 2015
People who figured that app developers had finally run out of groundbreaking ideas – because "there's an app" for basically everything imaginable -- can now transform their boredom into fascination by downloading a new app that is remarkably unique, certainly interesting, and potentially life-changing: DreamTwits.
Available at no-cost from the App Store and Google Play, DreamTwits from DreamTwits Inc. is the world's first social networking app for dreamers. Here's how it works:
Users log into the app and 100% anonymously share their night or day dreams with the DreamTwits community. The dreams can be inspiring, weird, nightmarish, ordinary or anything else -- there are no limits. Everything is neatly stored and organized on a secure platform.
Furthermore -- and this is where the app really becomes remarkable – users can add both photos and hashtags their dreams, which allows them to connect with others who are having the same or similar dreams. In this way, DreamTwits functions as a 24/7 global community of dreamers who can connect instantly and anonymously.
"In a socially active and rapidly developing world, people are left with less and less time to dream, the majority of their thoughts are materialistic, and that leaves dreamers in the minority," commented Giorgi Pipia of DreamTwits Inc. "That's why they say dreamers are lonely people. DreamTwits helps them to find their kindred spirits and assures them that they're not alone".
Other DreamTwits features include:

A "Dream Chat" option for users to connect instantly with each other to discuss dreams or any other topic.
A "Dream Match" option for users to see how their dreams link and connect with other dreams that have been anonymously added to the growing DreamTwits library.
A "Dreams Calendar" option for users to view all of the dreams they've posted, or that have been posted by other users.
A "Picture Sharing" feature, which automatically associates a picture with a dream.
Integration with other social networks (including Facebook), so that users an invite their friends, family members and colleagues to join the DreamTwits community.
In addition, the app is beautifully designed with well-chosen images and color schemes that blend nicely with the dream theme. The interface has also been smartly laid out, and manages to provide a lot of information and navigation options without cluttering the screen.
Added Ms. Pipia: "Despite the fact that the average person spends over 200,000 hours of their life dreaming -- and that doesn't even include daydreams -- most people never pay any attention to their dreams. Who knows how many epiphanies have been lost? With DreamTwits, anyone can easily, enjoyably and anonymously capture, catalog and connect with others to find hidden meanings to their dreams, or simply to make new friends. The possibilities are endless!"
DreamTwits, the world's first social networking app for dreamers, is available now for iPhone, iPad, and iPod touch from the App Store at https://itunes.apple.com/app/dreamtwits-share-your-dreams/id959855583, and for Android devices from Google Play at https://play.google.com/store/apps/details?id=com.trib.devicebee.dreamtwits&hl=en. The app is available at no-cost.
Additional app information, including screenshots and a trailer video, is available at http://www.dreamtwits.com.
About DreamTwits Inc.
DreamTwits Inc. launched on Valentine's Day (February 14) 2015, and is inspired by the idea of helping dreamers around the world find their kindred spirits, and be part of a supportive and vibrant community.