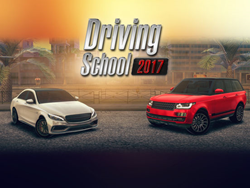 Cupertino, CA (PRWEB) July 31, 2017
Ovilex Soft, the global leader in 3D driving simulator apps with more than 100 million downloads and a Facebook community that recently added its 750,000th fan, announced today that its much-anticipated new title Driving School 2017 is now available for iOS and Android devices. There is no cost to download the app.
With over 100 exciting vehicles to unlock — including cars, buses and trucks — more than 15 maps to explore, and 80 increasingly challenging levels to experience, Driving School 2017 is certainly a worthy addition to the Ovilex Soft roster. In fact, based on the over 8,000 five star reviews the app has already received since launching, it might just might be the company's best and most beloved release yet.
Whether users want to have some fun in free ride mode, strive to earn their car, truck or bus licence, or go head-to-head against friends in any of three new multi-player modes (racing, free ride and catch the flag), Driving School 2017 features:

Meticulously detailed interiors and stunning 3D graphics
Multiple driving controls, including tilt steering, buttons, headlights, and touch steering wheel that uses AI and physics to create an ultra-realistic driving experience
Realistic engine noises that create a truly immersive gameplay experience
A gas system that requires periodic re-fueling at roadside gas stations
Choice of classic automatic gearbox or manual transmission with clutch and stick shift
Various driving environments such as cities, country roads, highways, deserts, mountains, valleys, and more, along with next-generation weather conditions
Realistic damage system that rewards good drivers and punishes bad ones
Online leaderboards and achievements
Gamepad controller support
Plus, users can request new maps and vehicles on Ovilex Soft's very active social media pages.
"After the success and popularity of our previous driving simulator releases, we knew that we had to raise the bar and give our community of users something really special and impressive," commented Marusac Alexandru of Ovilex Soft. "We spent thousands of hours developing and testing Driving School 2017, and the feedback we've received so far has been overwhelmingly positive. People love the fun and challenge of putting their virtual driving skills to the test, especially those who are learning how to use a manual transmission. Going back to school has never been so much fun!"
Driving School 2017 is available now for iOS devices from the App Store at https://itunes.apple.com/app/driving-school-2017/id1199437523, and for Android Devices from Google Play at https://play.google.com/store/apps/details?id=com.ovilex.drivingschool2017.
Addition app information, including a video trailer and screenshots, is available at: http://www.ovilex.com/app/driving-school-2017.
For all other information or media inquiries, contact Mark Johnson on behalf of Ovilex Soft at +1 408 757 0156 or press (at)appshout(dot)com.
About Ovilex Soft
Ovilex Soft is a new games company that focuses on making the best simulators on Google Play and the App Store. With a variety of planned future projects and continuous attention to quality control, the company will become an important developer within the simulator/racing game market.
Olivex Soft also helps ensure the quality of their products by keeping contact directly with their large audience of games players via the company's site forum at: http://www.ovilex.com/forum/
View the full Press Release in the appshout! Newsroom at: http://appshout.d.pr/tj5U3Z