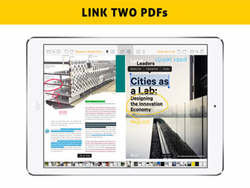 Since our launch, we've been listening carefully to the feedback from our users. In fact, most new features and changes were suggestions from our users
Cupertino, CA (PRWEB) April 04, 2015
Easy Annotate, the most popular dual PDF annotation app has received much praise for its practical value and simple design, making it easy to annotate two PDF documents next to each other and to link them. The favorite study app of many students and professionals received a major update to further increase easy of use and improve workflow, adding features such as improved Korean script support, text font and size editing and line thickness adjustment. In addition, the newest version has been released for free, which has led to over 20.000 downloads in the first week.
Easy Annotate is an ideal PDF annotation app that is unique for the ability to display, annotate and link two documents simultaneously. This makes it much easier to:

Learn languages by comparing two documents in different languages
Compare different versions of a document
Study with references
Besides showing two files at once, Easy Annotate is also great for highlighting a single document, as it has simple but powerful annotation features packed in an intuitive and beautiful interface.
The features of Easy Annotate include:
NEW: Korean script support
NEW: Change text fonts and size
NEW: Adjust line thickness
Open two pdfs next to each other to review, compare, annotate, study or lookup references.
Link documents to create references for easy lookup.
Tap the link later to automatically open the linked document next to the referring one.
Highlight, underline, note, draw or squiggle - Users can annotate pdfs their way and can even add sounds, signatures, stamps and images.
Export annotated documents to Dropbox, Google Drive or WebDAV account, or send them to iTunes. PDFs can be share to colleagues or printed with annotations directly from Easy Annotate for easy sharing.
Bookmarks, outline displays, multiple view modes, full dictionary support, text-to-speech, and more…
"Since our launch, we've been listening carefully to the feedback from our users. In fact, most new features and changes were suggestions from our users", comments Chris van der Kuil, the man behind Easy Annotate, "We want to thank all for their feedback and positive comments. We have a great product, both for students and professionals, and expect that many more will enjoy it!"
The new and improved Easy Annotate is available now from the App Store at:
https://itunes.apple.com/app/easy-annotate-dual-pdf-editor/id727622263
Additional app information is available at http://www.easy-annotate.com and a trailer demo is available at https://www.youtube.com/watch?v=znhIDDRmUyY.
For all other information including media inquiries, contact Chris van der Kuil +31655890222 or chris (at)easy-annotate(dot)com.
About Make Me Blue
Founded three years ago in Rotterdam, Chris van der Kuil and Freek Sanders have been enjoying themselves while working on their app ideas. Their greatest pride is Easy Annotate, which they developed because they needed it themselves.
Now that Easy Annotate is a reality, spurred on by users, they continue working to realize their dream of the best annotation app ever. Soon also to be released for Android…