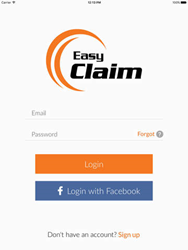 Cupertino, CA (PRWEB) December 28, 2015
In the aftermath of an accident or incident, the last thing that people want to do is spend several hours taking an inventory of assets that are deemed to be non-salvageable. But that's precisely what happens when their insurance company tells them to file a Total Loss report. However, now thanks to developer Ryan Peacock, people no longer have to "add insult to injury" – because they can simply and quickly prepare a Total Loss report on their iPhone or iPad, with the game-changing new app EasyClaim Total Loss Software.
Available at no-cost for a limited time to celebrate the app's launch, EasyClaim Total Loss Software guides users through a streamlined 5-step process:

Step 1: Users log into the app directly or through Facebook.
Step 2: Next, users create a new Total Loss report, and enter basic claim information (e.g. insurance company name, date of loss, notes, etc.). Users can also edit old reports.
Step 3: From there, users invite additional parties as necessary, such as contractors.
Invitations are sent via an automated email.

Step 4: Then, users proceed to list and add a brief description of the items included in their claim. They can also add photos, either by uploading them from their library,or snapping them with their device's camera. If adding photos isn't an option, users can access the app's innovative "eBay Auto Search" feature to quickly find items that are identical or closely resemble their non-salvageable items. The app automatically stamps the date, time and location, as well as the estimated value from the eBay ad or auction (users can manually override this and enter a different value if they wish).
Step 5: Once their report is complete, users tap the checkmark icon and choose their desired file format (Excel or .PDF). They can then either email their report straight to their insurance company or contractor, or upload it to Google Drive or DropBox.
Furthermore, at any time users can see who has access to a specific report, as well as change permissions (view, edit and admin).
"Personal property is priceless and should be treated with care. We created EasyClaim Total Loss Software to eliminate the stress of manually documenting personal property after an accident or incident," commented Ryan Peacock. "In just a few clicks, people can get back to their normal life as quickly and simply as possible".
Added Mr. Peacock: "And while our app is very user-focused, it's also a major benefit for insurance adjusters, who get the clear, accurate and complete information they need to get the claims process started right away – which, of course, is also great news for policy holders".
EasyClaim Total Loss Software is available from the App Store at https://itunes.apple.com/us/app/easyclaim-total-loss-software/id1026858718?mt=8.
As noted above, to celebrate the launch it can be downloaded at no-cost for a limited time.
Additional app details, including screenshots and a video trailer, are available at http://easyclaimapp.com.
For all other information or media inquiries, contact Mark Johnson on behalf of Ryan Peacock at +1 408 757 0156 or press (at)appshout(dot)com.
About Ryan Peacock
Ryan Peacock has worked in the property claims industry for over ten years. His goal is to refine and simply the property claims process with easy to use software geared for the insurers and carriers. Ryan is also building an automated post loss photograph app which will change the future of claims and how reserve prices our set.