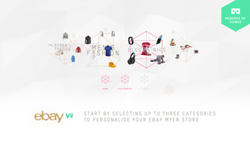 Cupertino, CA (PRWEB) September 12, 2016
Australia's largest marketplace and iconic Australian retailer, Myer have joined forces to provide a glimpse into the future of shopping by developing and launching the world's first Virtual Reality (VR) Department Store.
Throughout the VR experience, Australian customers can browse more than 12,500 Myer products and they can be selected and added to cart using eBay Sight Search™.
The Virtual Reality Department Store connects to the existing eBay.com.au API (Application Programming Interface) and allows Myer's product range, pricing and stock information, to be updated in real time which is a first for virtual reality experiences globally.
From today, eBay and Myer are offering customers the opportunity to receive their own shopticals (specially designed virtual reality viewers) to start their VR shopping experience. 15,000 shopticals will be available free of charge from http://www.ebay.com.au/VR.
Steve Brennen, CMO and Senior Director of Retail Innovation, said: "eBay has always been in the business of predicting the future of retail, and most importantly creating it. With the world's first virtual reality department store, we have challenged ourselves to build an exciting and engaging experience that makes browsing and selecting products easier than ever before."
Sydney residents and visitors will also be able to experience the VR Department Store by booking their place at a special exhibition at the Harbourside Room in Sydney on Thursday 19 May and Friday 20 May. Places can be secured via Eventbrite at: http://ebay-myer-worldfirst-digital-innovation.eventbrite.com.au.
Australians can simply download the eBay VR Department Store app on their smart phone, and insert their phone into the shopticals with the app open to start their virtual shopping experience.
"We're making this technology accessible to all Australians with our giveaway of 15,000 shopticals. Their insights and feedback will be invaluable to us as we look to the future of VR and build out experiences that take retail to the next level," Brennen added.
How it Works:
1. Personalise: the shopper selects their areas of interest at the beginning of the experience and the store is custom built around these needs, making the most relevant products visible first. As shoppers move through the store, the smart technology suggests other products that might be desirable or interesting, based on what the store knows about them.
2. Browse: using eBay Sight Search™, the shopper views a product in the store and by holding their gaze on it, the product is elected and automatically floats towards them, with the top 100 products available to view in 3D, and more than 8000 in 2D. The shopper is able to quickly move through different departments of the store, making the shopping experience much more time effective for today's busy consumer.
3. Research: shoppers simply lock eyes on information icons to receive full product specifications, as well as price, availability and shipping details.
4. Purchase: shoppers just hold their eyes on the 'Add to Basket' icon and then view the basket to review before purchasing. To complete a purchase with the shopticals, users simply:

Remove their handset from the shopticals
Log into eBay
Finalise the transaction through app, desktop or tablet
To check out on a Gear VR headset, shoppers simply enter their email address and follow the prompts.
"The eBay team always has been at the forefront of retail innovation, and the eBay Virtual Reality Department Store is another great example," said Richard Brett, managing director of Pulse Communications. "eBay is a partner that truly invests in original and brave creativity, and we're so proud to be leading this world first piece of thought leadership. It truly demonstrates how virtual reality can transform the lives of so many Australians."
David Loughnan, Digital Director of Traffik who led the VR development added, "So many branded VR experiences we see are passive 360 video. When it comes to truly interactive virtual reality experiences, the rules are still being written. The eBay VR Department Store pushes the envelope for both VR and e-commerce – not only by delivering a truly immersive shopping utility but also integrating directly with the eBay platform to develop an innovative retail channel of the future."
About Traffik
Traffik are Australia's most creative brand activation agency. Traffik create consumer connections in the live & digital space using an integrated mix of experiential, shopper and field marketing disciplines.
About eBay Marketplace
eBay is one of the world's largest online marketplaces, connecting people with the things they need and love virtually anytime, anywhere. eBay has 157 million active buyers globally and more than 800 million live individual and merchant listings at any given time. With mobile apps available in 190 countries, eBay delivers a personalized shopping experience and seamless access to inventory from down the street and around the world. Tailored shopping experiences customize buying and selling; and eBay provides variety and choice for sellers by enabling them to offer goods through online, mobile and local channels to consumers around the world.
About Myer
Myer is Australia's largest department store group and has been synonymous with style and fashion for over 100 years. We have a valuable footprint of 67 stores in prime retail locations across Australia that is complemented by our well-recognised brand and supported by our recently enhanced online, digital and mobile platforms. This combination sets the platform for a leading omni-channel experience for our customers, however they choose to shop with us.