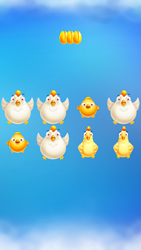 The best thing about Fat Chickens, is that gamers can keep playing endlessly as they improve their skill and have tons of fun
Cupertino, CA (PRWEB) March 07, 2015
A big problem with many arcade games in the App Store -- and particularly those that are available to download at no-cost -- is that they're either too easy, too boring, or in some cases, just too silly or stupid to deserve more than a few minutes (or few seconds) of attention. However, every now and then something new arrives on the scene that reminds the app world what can be accomplished when superior creativity, gameplay and fun combine. And the latest arcade app to achieve this lofty standard is the additive and unique Fat Chickens from developer MAMN84.
To start with: Fat Chickens stars some pretty chubby poultry indeed, and they're frankly hard to look at without bursting into laughter. Gamers must take aim and shoot these fat chickens in order to explode yet more chickens; some of which are of the thinner variety (vegetarians and animal rights activities relax: this is all virtual). The goal is to pop all chickens -- fat and thin, big and small -- and get to the next level.
Along the way, gamers who develop a knack for efficiently popping chickens can collect golden eggs, which are used to unlock more episodes. They can also collect and save coins, which are used to purchase more lives and power-ups, including those that:

Put out fires by making it rain
Make eggs temporarily bouncy
Shoot twice as many eggs
Shuffle chicken positions
Turn all eggs into small chicks, which saves plenty of grain
Transform fat chickens into purple fat chickens (this is as hilarious as it sounds)
In total, the app features 5 episodes, and more than 80 challenging levels. Gamers who achieve brag-worthy scores can check the leaderboard and compete against their friends.
"The best thing about Fat Chickens, is that gamers can keep playing endlessly as they improve their skill and have tons of fun," commented Mohammed Al Nafisah of MAMN84. "It never gets boring, because there's always another episode or level of explore!"
Fat Chickens, the addictive and unique new no-cost arcade app, is available now from the App Store.