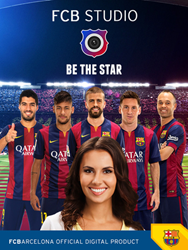 FCB Studio App raises the bar on fan engagement for FCB – letting fans create their own experiences and share their custom images.
Cupertino, CA (PRWEB) October 03, 2015
Tawasol, the leading mobile application developer, had announced the launch of a new, official mobile App of Football Club Barcelona (FCB) – FCB Studio. The launch event took place at Levi's Stadium in Santa Clara, and was attended by Mr. Laurent Colette, Chief Commercial Officer of FCB as well as leaders of Tawasol, the app developer
The FCB Studio App is available for free download for both IOS and Android and will be available for both BlackBerry and Windows as well.The app is designed to help the football club engage more deeply with its global multilingual fan base across social and digital spaces.
"FCB Studio allows fans of the club to create custom images with FCB stars, share those images on their own social networks, and connect with FCB fans worldwide," said Osama Moustafa, CEO of Tawasol. "With new content being updated every day, this is the must-have app for any true FC Barcelona supporter, it allows fans access to hundreds of new, constantly updated images of FCB players, and lets them connect with a community of millions of FC Barcelona fans worldwide."
Moreover, FCB Studio users who create and share the best photos, as decided by other fans, can receive prestigious fan rankings as well as special promotions including free FCB merchandise. The top ten ranked images will be in the running to win a trip of Camp Nou, FC Barcelona's legendary home stadium.
"FCB Studio App raises the bar on fan engagement for FCB – letting fans create their own experiences and share their custom images," said Mr. Laurent Colette, Chief Commercial officer of Football Club Barcelona. "Football Club Barcelona has amazing fans all over the world, speaking countless different languages. FCB Studio, which is available in 14 languages, will now offer the fans the opportunity to share their passion through the universal language of photos and images. We are very excited with today's official launch and we are waiting anxiously to witness the creativity and interaction of our fans worldwide."
FCBStudio, the innovative experience to connect and engage FC Barcelona fans around the globe, is available now in the App Store at: https://itunes.apple.com/app/fcb-studio/id1017785499
A dedicated Android version is also available via Google Play at:
https://play.google.com/store/apps/details?id=com.tawasol.fcbBarcelona
A video overview of some of the App's features is available through the following link https://youtu.be/IlB3tDIlSdI
Or check the website for more information and content: http://www.FCBstudio.mobi
For further information please contact:
USA
Sally Ossman
Chief Commercial Officer - Tawasol
cco(at)TawasolApps(dot)com
+15105126536
UAE
Osama Moustafa
Chief Executive Officer - Tawasol
ceo(at)TawasolApps(dot)com
+971526413099
About FC Barcelona
FC Barcelona was founded on November 29, 1899 by initiative of a Swiss gentleman called Hans Maximilian Gamper, popularly known as Joan Gamper. Since it was founded, the club has had 44 different presidents. From Walter Wild to Josep Maria Bartomeu, Barça has grown into a massive social phenomenon that reaches far beyond the bounds of mere sport. The club has grown along with the city around it, and has come to represent Barcelona and Catalonia all around the world.
About Tawasol:
TAWASOL has emerged as a leading provider of mobile apps over the last 7 years by consistently enhancing its competencies and technologies in the rapidly growing mobile pace, establishing a strong expertise in the mobile domain by acquiring an extensive know-how and experience of building groundbreaking apps on the major mobile operating systems, like: iOS, Android, BlackBerry OS, Windows, and Symbian during the past 7 years.
TAWASOL is currently focusing in Sport's Digital industry to support Clubs globally in enriching their digital portfolio through introducing new innovative Apps that can utilize their digital content, create new revenue streams and at the same time increase engagements between club's assets (players, brand, products) and their fan base constantly by researching and developing how to break the next mould of technology.