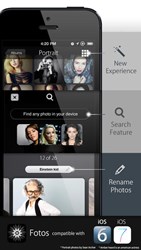 Fotos delivers a new and attractive experience, along with exclusive features, that will make users fall in love with their photos
Cupertino, CA (PRWEB) August 28, 2013
iPhone, iPad and iPod touch users who are looking for a revolutionary new photo manager app that uniquely brings together refreshing ease, cool style and exclusive features, can now download the Fotos from Saudi Gravity Co.
With Fotos, users can simply and quickly tag their photos with searchable text, and then instantly find them with a single touch. It's a powerful new way to explore and view albums and photos, and a welcome change from the boring, old fashioned approach of scrolling through an entire – and seemingly endless – library just to find a desired photo.
Plus, since it's designed as a standalone app, photos that are deleted from Fotos are not deleted from the device's photo gallery. As a result, users never have to worry about accidentally erasing an important or perhaps even irreplaceable photo.
Additional Fotos special features include:

Various interfaces to choose from to suit different preferences, tastes and moods
A creative display that adds a splash of style and elegance to a user's viewing experience
Easy social sharing through Facebook, Twitter, Instagram and email
Multiple language support: English, Arabic, French, German, Japanese, Korean, Russian, Simplified Chinese and Spanish
"Fotos delivers a new and attractive experience, along with exclusive features, that will make users fall in love with their photos," commented Ahmad Al-Debasi of Saudi Gravity Co. "And this is only the beginning of the Fotos revolution. We're hard at work creating an incredible platform that will empower users to share their images and precious oments in a completely new, mind blowing way!"
Fotos, the easy, stylish, feature-filled and revolutionary new photo manager app is available now in the App Store at https://itunes.apple.com/app/fotos/id635737018.
Current and prospective users can also visit the Fotos microsite at http://fotosapp.net.
For more information or media inquiries, contact Mark Johnson on behalf of Saudi Gravity Co. at +1 408 757 0156 or press(at)appshout(dot)com.
About Saudi Gravity Co.
Saudi Gravity Co. provides customized, top quality IT consulting, project management and software solution services tailored to its clients' needs. The company focuses on quality, implementing creative project delivery methodologies, and establishing robust customer relations that deliver extraordinary results.
Learn more at http://www.gravity.sa