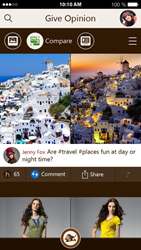 While we had high expectations for Hammer when we launched it late last year, the response worldwide has been incredible!
Cupertino, CA (PRWEB) March 26, 2014
Americos Technologies' co-founders Gaurav Khanna and Amit Khanna announced today that their popular quick opinion no-cost app Hammer has been selected to the App Store's What's Hot section.
Hammer, which was released in late 2013 for iOS, Android and as a web app, has been called "insanely addictive" by users who can't get enough of the app's unique design that lets them post questions on just about anything, and in a matter of seconds start receiving honest responses from friends and members of the Hammer community worldwide. Users can also search for questions that capture their interest and share their opinion by answering yes, no, or adding comments. Plus, there are no daily posting or voting limits, and questions can be targeted to friends, women, men or everyone.
Aside from its widespread popularity as a fun social sharing app, Hammer is also being used by publishers, bloggers, businesses, media outlets and other organizations to embed polls on their website and collect votes. To support this goal, the app features a unique poll link that can be shared in-app via Twitter, Facebook, SMA, WhatsApp, email and more.
Hammer also lets users:

Post questions with photos
Add #hashtags to questions to increase visibility and searchability
Choose a category for their question (e.g. fashion, movies, design, etc.)
Add friends and IM in-app
Get alerted when friends post, vote and comment on questions
Review their full activity history that includes both posts and opinions
Share their activity on Facebook and Twitter
"While we had high expectations for Hammer when we launched it late last year, the response worldwide has been incredible!" commented Americos Technologies' cofounders Gaurav Khanna and Amit Khanna. "People of all ages around the world are sending and receiving honest opinions in a way that's easier, faster and simpler than ever before. We're excited to be featured in the App Store's What's Hot list, and look forward to welcoming even more Hammer-addicts to our growing global community."
Hammer, the insanely addictive quick opinion app that has taken the world by storm, is available now for iOS devices from the App Store at https://itunes.apple.com/app/hammer/id727632742, and for Android devices from Google Play at https://play.google.com/store/apps/details?id=com.americos.hammer.
The supporting web app is accessible at http://www.hammerit.in/.
About Americos Technologies
Americos Technologies is an innovative Web and Mobile Application Development Company. We excel in Defining, Designing and Developing Enterprise and Consumer applications. Our solutions cater to different industry verticals from Banking to Ecommerce,Healthcare to E-learning and from Entertainment to Social media. We work in close coordination with our clients to understand their business requirements and eventually create cutting edge applications that transform their businesses the way they see it.
Since its inception in 2012, Americos Technologies has been constantly evolving as a Solution oriented company rather than a Business oriented company. Backed by its Multimillion Dollar parent Organization, Americos Group, it aims to redefine the way applications are developed leading to superior user experience.
We use the best and latest technology, user interface design and development methodologies to implement our solutions. Our excellent team helps us to deliver world class products and services for our Clients.
Learn more at http://www.americostech.com/.