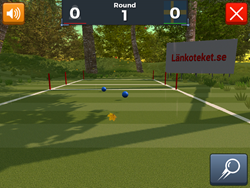 Cupertino, CA (PRWEB) August 12, 2016
Of the estimated 500-1000 new mobile games that are launched every day, the fact is that most of them will be wiped off a user's device in a matter of weeks -- because they're perceived as unimaginative, boring, poorly conceived, or just plain riddled with bugs. However, there are a small percentage of apps that truly stand out and stick around, and the latest addition to this elite group is Hanoe by Swedish-based development firm Lankoteket.se. The app is available from Google Play at no cost.
The simplest way to describe Hanoe is that it's a unique fusion and re-invention of three classic games: bowling, shuffleboard and boules (which for those unfamiliar with the game is similar in some ways to lawn bowling, and extremely popular in France).
Users must throw as many colored balls as possible into various "scoring zones". Unlike shuffleboard however, the closer zone is worth more points than the farther zone. This may sound fairly simple, but there's a unique twist: users can use their limited supply of "elimination bowls" to try and knock their opponent's balls out of the scoring zones. The user with the most points after the end of 10 rounds is crowned the winner.
What's more, users can either play in solo mode, or they can compete online against opponents around the world. Hanoe randomizes opponents, and finds one with a similar skill level so that games are competitive and enjoyable. Regardless of whether they choose solo or multiplayer mode, the higher that users climb, the more challenging and tougher the games get.
Along the way, users are treated to richly-detailed 3D graphics that create an immersive gaming experience, and look sharp on device screens of all sizes. The sound effects are also very well done, and the un-cluttered scoreboard lets users always see the score and round.
"Hanoe is easy to understand and quick to learn, which is important because we know that users want to start playing and having fun right away!" commented Fredrik Olofsson. "But at the same time, Hanoe is never boring or repetitive, because there are always challenging new levels to conquer. And for users who choose multiplayer mode, there are so many opponents around the world who ready to see who has the coordination, reflexes, tactics, and strategic skills to be the best!"
Hanoe, the ultra addictive new 3D game that puts a fresh twist on classic games and features both solo and multiplayer modes, is available now from Google Play at https://play.google.com/store/apps/details?id=com.PreciseMedia.Hanoe. There is no cost to
download the app.
For all other information or media inquiries, contact Mark Johnson on behalf of Lankoteket.se at +1 408 757 0156 or press (at)appshout(dot)com.
About Lankoteket.se
Based in Sweden, Länkoteket are focussed on Internet Marketing and Software Development, with a passion for delivering successful projects.