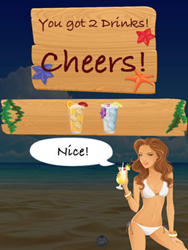 Cupertino, CA (PRWEB) November 23, 2015
Blue Diamond L.P. has updated its popular game Ice Balls – Drink on the Beach, and as hoped, v1.1 is even more fun, creative and addictive than ever before.
Like all worthwhile games that deserve to be downloaded, experienced and enjoyed, Ice Balls – Drink on the Beach is very simple to understand, but quite difficult to master.
Here's how it's played:
Users are presented with empty cocktail glasses, and must deftly navigate each one so they fill with three ice balls. This may sound and look fairly easy, but there's some delightful twists that make things tougher:

Cocktail glasses begin to move at increasing speeds
Ice balls move horizontally - requiring perfect timing.
Time limits lead to frantic action.
Some glasses become out-of-bounds.
What's more, Ice Balls – Drink on the Beach features 200 levels, which means that users won't run out of challenges, regardless of how skilled they become in capturing ice balls. And since each level takes a while to complete (particularly after the first few
starter levels), users can essentially look forward to unlimited gameplay.
The graphics are also excellent, with a chic and stylish flair that suits the game perfectly. At the same time, unlike many other games, the scenery and graphics don't get in the way of actually playing the game, nor do they cause unnecessary eye strain. This is
particularly important, since as mentioned, Ice Balls – Drinks on the Beach is very addictive. Users who expect to play for a few minutes will likely find themselves playing for more than an hour (and enjoying every moment of it), while those who plan on
playing a few levels "just before bed" shouldn't be surprised if they glance at their clock and discover that dawn is just around the corner.
Other key enhancements that the fun and talented group at Blue Diamond L.P. have added to v1.1 include:
Significant user interface improvements
Additional levels
Optionally view a trace of the ice ball path
More detailed instructions
Improved gameplay
Performance optimization
"The best games are the ones that you can't stop thinking about, and can't wait to start playing again," commented Dimitrios Makris of Blue Diamond L.P. "That's why people around the world love Ice Balls – Drinks on the Beach, and why we're thrilled to release this new update. Basically, we've taken an amazingly fun game and made it even better!"
Version 1.1 of Ice Balls – Drinks on the Beach is available now at no-cost from the App Store at https://itunes.apple.com/app/ice-balls-drinks-on-beach/id1017221980.
Additional app information, including screenshots, is available at via Blue Diamond L.P.'s Facebook page at https://www.facebook.com/AmazingIceBalls?fref=ts.
For all other information or media inquiries, contact Mark Johnson on behalf of Blue Diamond L.P. at +1 408 757 0156 or press (at)appshout(dot)com.
About Blue Diamond L.P.
Located in Athens, iOS app developers Blue Diamond L.P. have a number one priority to produce applications with smooth gameplay and attractive appearance in order to guarantee the best possible user experience — resulting in high quality apps as rare as Blue Diamonds.
Learn more: http://www.bluediamond-apps.com