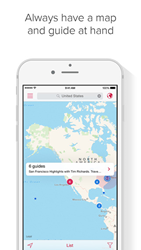 Cupertino, CA (PRWEB) September 19, 2015
IZITEQ has revealed today that izi.TRAVEL, the on-demand tour guide when traveling, has been downloaded for the one millionth time.
The app's growth and positive user reviews have led to Apple recently featuring izi.TRAVEL as one of its "Best New Apps" for the iPad and iPhone. In the Google Play Store, izi.TRAVEL has received the 500.000 downloads badge. This officially makes it the most popular audio guide app in the world for Android users.
"We strongly believe that great stories significantly improve the travel experience," says IZITEQ CEO Alex Tourski. "After one million downloads and from reading our reviews, it's clear the users agree."
izi.TRAVEL is a free, storytelling platform that helps travellers discover their destinations with immersive audio tours produced by knowledgeable authorities plus locals and other travellers sharing the gems they've uncovered. More than 460.000 users each month use the app to enrich their travels.
izi.TRAVEL offers a never-before-possible, immersive experience for tourists. From the moment their feet hit the ground in a new city, they have access to a treasure trove of curated content. The free app gives users access to a collection of more than 1.500 city tours and 500 museum guides in over 350 destinations across the world. Those numbers increase daily as new audio guides in new places are added by travellers, experts and enthusiasts.
Whether taking in a museum at their own pace instead of being herded along in a tour group, or viewing a building that takes their breath away, izi.TRAVEL avoids the need for travellers to carry a library worth of books, or spend all day staring at a tiny screen, and offers an expertly-produced audio tour with the backstory and full historical significance ready at a moment's notice.
With izi.TRAVEL users can download an audio tour in advance to avoid data and roaming costs, then use the app in offline mode while exploring. The tour will play automatically with no fiddling or endless searching. This is possible thanks to the app's built-in GPS identification system and QR code-enabled guides. Everyone is free to fully enjoy the beauty and majesty around them while learning about the history of each piece.
The audio guides are accompanied by images, videos, maps, texts and even quizzes for a more interactive experience. In addition, the in-app, user ratings and review system lets users quickly select the tour which will be the best fit for their needs.
"Using izi.TRAVEL is like having a good friend at each new destination who also happens to be an enthusiastic expert on his area," says Tourski. "You can finally enjoy what's around you and stop starring at books and screens."
Judging from the number of downloads and quality of reviews, izi.TRAVEL is making fast friends with travellers across the world. In the Google Play store, izi.TRAVEL has a four star average rating from more than 500.000 downloads. Nearly 60 percent of reviewers have given the app a perfect, five star rating. In the Apple App Store, izi.TRAVEL has an average rating of four and a half stars.
izi.TRAVEL is available for free from the App Store, Google Play, and the Windows Phone Store.
For more information about izi.TRAVEL, including a video demo, check out http://www.izi.travel.
For the latest news and travel reviews, follow us on Twitter, Facebook, Instagram and Google Plus.
For all other details including media inquiries, contact Daniela Itro of IZITEQ at daniela(dot)itro(at)izi(dot)travel.
About IZITEQ
IZITEQ, pronounced "easy travel", is a multinational, Amsterdam-based, development group founded in 2011. izi.TRAVEL is building the bridge to connect our cultural heritage with the high-tech future. Thanks to izi.TRAVEL, museums and attractions can provide an immersive, interactive experience for travellers which was never before possible.