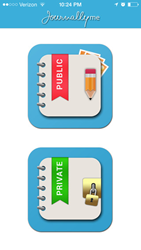 Cupertino, CA (PRWEB) December 30, 2014
Users looking for an innovative, easy-to-use and enjoyable journal experience can now download JournallyMe for iPhone to express their thoughts, stories, goals, pictures, videos and even directly messages friends and family.
Public and Private options allow both social networking and private thoughts to be undertaken within a single app. Public content is shared with family and friends automatically via a beautiful user interface that also allows readers to "like" and "comment" on any individual post. Private content is kept safe and secure in the private journal feature and can be used as a personal diary or journal without the need for a separate standalone app.
In addition JournallyMe also features an interactive map which tracks users travels, as well as a private calendar, dedicate photograph and video section and push notifications.
Other JournallyMe features include:
> Public Journal
> Private Journal
> Breathtaking detailed Photo and Video stabilization
> Story Of My Day
> Short Story
> JournallyMe Map: Tracks users travel along a worldwide map by pencil pinning
> Location Entry: Share information and alert friends to any location.
> Public Monthly Agenda
> Private Monthly Agenda
> Fast Direct Messaging
> Reliable Group Messaging
> Find / add friends through: Twitter & Facebook
> Users find their inner creativeness
JournallyMe is designed for the IPhone and available now in App Store at:
https://itunes.apple.com/app/journallyme/id928405998
Requires iOS 7.0 or later. Compatible with iPhone, iPad, and iPod touch. This app is optimized for iPhone 5.
About JournallyMe, LLC.
Located in Glendora, CA, USA, JournallyMe LLC have a philosophy to provide people with a new fun way to share thoughts and stories and provide a different way to journal either privately or publicly.
Learn more: http://www.journally.me