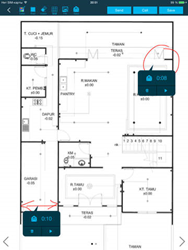 According to the Social Science Research Network, 65 percent of people are visual learners and prefer to process information based on what they see...
Cupertino, CA (PRWEB) June 09, 2015
Students who want to exchange class notes and homework assignment, professionals who want to convey innovative ideas and creative brainstorms, friends who want to share fun drawings and cool sketches, and everyone else who simply needs a better way to collaborate can now head to the App Store, and download the unique new no-cost iOS app Live Sketchpad from Wood Bear Pte Ltd.
Developed with the idea that "a problem well stated is already half of the solution", Live Sketchpad lets users collaborate with someone across the street – or on the other side of the world -- by placing an audio call via their existing Internet connection (this is similar to Skype in that there are no additional connection fees or long distance charges), and then sharing sketches on their screen in-real time.
In addition, Live Sketchpad automatically saves and archives all notes into organized booklets, which makes them fast and easy to retrieve and share. There's also a handy notes preparation function, which lets users prepare their materials wherever they are – at school, at work, riding a train, waiting in line, and anywhere else inspiration strikes.
Other Live Sketchpad special features include:

A built-in contact list for quick, one-tap connecting to friends and colleagues
A clear and streamlined UI that maximizes the available sketching area on both iPhone & iPad.
The option to add different colors and pictures to any sketch
A convenient "eraser" that lets users change or fix an existing sketch, rather than having to start from scratch
Support for group calls for up to 5 users
The latest update has also added:

Registration via mobile number
The ability to pin multiple audio notes to the document and send to your friends and colleagues.
In addition, users can remain online and be contacted, even if the app is not running in the background.
"According to the Social Science Research Network, 65 percent of people are visual learners and prefer to process information based on what they see," commented Agus Sugama of Wood Bear Pte Ltd. "However, other apps don't let people chat while they share sketches, which can be very frustrating and limiting. And so out of frustration, I decided to create a solution that provides a more efficient and effective way to collaborate and share – not just vocally, but visually as well!"
Live Sketchpad, the innovative new iOS app that lets users talk and share sketches in real-time, is available now at no-cost from the App Store at https://itunes.apple.com/app/live-sketchpad/id926917816. The app is available in English, French and Russian.
Additional app information, including a video demo, is available at http://www.live-sketchpad.com.
For all other information or media inquiries, contact Mark Johnson on behalf of Wood Bear Pte Ltd at +1 408 757 0156 or press (at)appshout(dot)com.
About Wood Bear Pte Ltd
Based in Singapore, Wood Bear Pte Ltd is dedicated to creating a better experience for users via streamlined applications that target a specific need. The company believes that too many applications these days are bloated and contain unnecessary aspects that cause primary features to be diminished.