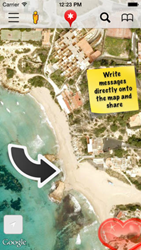 iOS users love their device, but for reasons that have been well documented and publicized, they aren't big Apple Maps fans, and that's why we created Maps Pro with Google Maps.
Cupertino, CA (PRWEB) July 24, 2014
Users in 59 countries (and counting) who have made Maps Pro with Google Maps the #1 iPad navigation app -- along with millions of other iOS users who want the handsdown best alternative to Google Maps available – can now head to the App Store, and download the latest version 1.4.2 that features over 60 improvements and enhancements, including a brand new UI for iPhone, better directions and searching, iCloud syncing, bookmark tagging, and much more.
Developed by WildPalm Ltd., Maps Pro with Google Maps uses the official Google Maps SDK to rapidly display swipeable pinch-and-zoom maps with stunning 3D exterior and interior building views (where supported) and 360° panoramic full-screen street views. Other notable app features include:

Customizable maps that can be permanently annotated with colored drawings, arrows, stickers and typed or hand-written notes. Maps can also be imported to easily find any location in a user's address book.
Precise step-by-step directions for travel by car, bike, walking or public transit (including arrival/departure times), with up to three alternative routes, optional stopovers and full traffic information.
Smart categories that automatically categorize bookmarks by city or country.
Advanced searchable bookmarks to rapidly locate favorite places.
The ability to add rich meta data to any location, including photos, tags, comments, ratings, phone numbers and more.
Auto-completion based on current location, which displays the most popular results in real time.
Easy place searching to discover local destinations in over 50 categories, including restaurants, bars, shops, stores, parking lots and more. Plus, search results can be filtered to highlight destinations that are currently open for business.
Notifications that let users know when they're near a specific location.
Helpful reviews with optional translations when traveling abroad.
Integrated easy sharing options to send details of a particular place/current address along with a link and a full picture of a map to friends via email, Facebook or Twitter.
And now in version 1.4.2, users can take advantage of over 60 improvements and enhancements, including:
An outstanding iPhone UI for those who don't have an iPad or want to leave it behind
iCloud syncing to share and update all bookmarks between iPad/iPhone.
An Offline Maps mode to view maps when an Internet connection is unavailable, or when they want to reduce bandwidth usage.
A handy "Nearby Places" button to quickly find relevant places, and easily bookmark current location.
Useful marker icons that feature customized pinned places with different colors and icons.
The ability to save directions for quick access to common routes.
Improved Street View, with sharing and automatic driving modes.
"iOS users love their device, but for reasons that have been well documented and publicized, they aren't big Apple Maps fans," commented Nigel Grange of WildPalm Ltd. "And that's why we created Maps Pro with Google Maps. It gives iPad and now iPhone users complete access to advanced Google Maps features and functions, as well as several unique customization options. And now with our latest update, we've raised the bar even higher with over 60 improvements and enhancements."
Maps Pro with Google Maps version 1.4.2 is available now in the App Store at https://itunes.apple.com/app/maps-pro-with-google-maps/id630864653.
Additional app information, including screenshots and a video demo, is available at http://www.mapsproapp.com/.
For more information or media inquiries, contact Mark Johnson on behalf of WildPalm Ltd. at +1 408 757 0156 or press (at)appshout(dot)com.
About WildPalm Ltd.
WildPalm Ltd. is the home for quality software for iPhone, iPod Touch & iPad. The company's suite of iOS apps include: Pumpkin Head, Video DS - Dualscreen Video Player, Hear This!, Badger Face, Facebook PhotoStream, Camera FX Lite, Football FacePaint Live - 2010 Edition, Camera FX, Sync Browser - Firefox Bookmark Sync, Easy PDF, Fractal HD, iSearch and Fractal Touch. All apps are available now in the App Store.
Learn more at http://www.wildpalm.co.uk/.