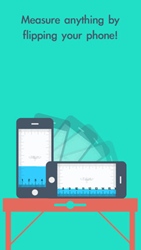 Whether someone is measuring the length of a table, a screw fixing or a limitless array of possibilities, Measure Plus makes the process extremely easy, quick and simple
Cupertino, CA (PRWEB) June 19, 2014
iPad and iPhone users who want to easily and accurately measure everything from anywhere, can now head to the App Store and download Measure Plus: the new must-have app from Bullstreet.
With a refreshingly un-cluttered measurement grid and an elegant animated water level that will be appreciated by all kinds of users – including on-the-job professionals who need tools, not toys -- Measure Plus instantly transforms an iPad or iPhone into a digital ruler and spirit level that can be used to measure real-world objects, surfaces and distances.
Here's how Measure Plus works: users hold their device – either vertically or horizontally– on the surface of whatever they wish to measure. For measuring spirit levels, they simply tilt their device accordingly. Instantly, the app displays a measurement based on the device's outer dimensions. For spirit levels, the realtime inclination displays in degrees. And for an even more precise measurement,users simply tap and hold their screen to manually bring up the app's crosshairs.
Measurement is not limited to the length of the device, as simply flipping or rolling the device along the length of an item creates an aggregate distance calculation and allows larger items or distances to be measured quickly and accurately.
Users can also take advantage of additional special features, including the option to:

Save their measurements to the app's clipboard
Easily reset their measurement and start over
Access advanced settings to change the unit of measurement (toggle inch/cm; change device's outer dimensions to accommodate a protective case, and so on).
"Whether someone is measuring the length of a table, a screw fixing or a limitless array of possibilities, Measure Plus makes the process extremely easy, quick and simple," commented Linus Hedstrom of Bullstreet. "And best of all, anyone can use it – from kids who are working on a school project, to professionals who are crafting precise blueprints, and everyone in between. It adds a whole new dimension to an iPhone or iPad, and will make users wonder how they ever managed without it!"
Measure Plus, the new must-have new app that lets users easily and accurately measure everything, anywhere, is available now at https://itunes.apple.com/app/measure-plus-mat-langd-och/id881794184.
For additional app information, including screenshots, visit: http://www.bullstreetapps.com/measureplus.
For all other information or media inquiries, contact Mark Johnson on behalf of Bullstreet at +1 408 757 0156 or press (at)appshout(dot)com.
About Bullstreet
Bullstreet is a development studio that designs awesome apps for iPhone and iPad. The company is passionate about building great products, including the apps Countdown Delux, Counters Pro, and soon-to-be-released Stock Magazine.
Learn more at http://www.bullstreetapps.com.