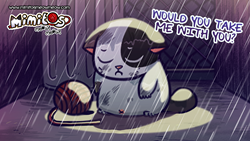 Cupertino, CA (PRWEB) May 21, 2014
Mimitos Meow! Meow! is a newly launched virtual pet game where players must adopt and become the owner of Mimitos, the world's coolest virtual kitten. Suitable for wannabe pet owners of all ages, including young children, players must keep Mimitos healthy and happy, with regular playing, washing, feeding, sleeping and tickling sessions.
In addition to looking after Mimitos gameplay also includes more than 200 challenges to unlock and each of them awards a virtual prize. However, players must ensure that their virtual pet is well looked after as failure to do so will lead to Mimitos leaving home, whereby players must either offer a present or wait for their pet to become happy again and return home.
To customize the game, Mimitos can be dressed in a variety of over 100 clothes and accessories and players can also customise the home of the cool cat with a selection of furniture, colour schemes, patterns and decorations.
The game, which is available in English and Spanish languages, is free to download and contains 6 amazing mini-games starring the players virtual pet:
> SPACE Mimitos flies a spaceship among the stars and must avoid obstacles and collect coins.
>JUMP Mimitos must jump from platform-to-platform without falling and collect coins.
> ROULETTE Win virtual cash and bells when making a line of objects.
> RUN! Mimitos must run as far as possible while collecting coins. Using rockets will make Mimitos run faster.
> MEMORY Players can train their memory with Mimitos memory cards.
> BUGS Protect Mimitos food from a hoard of bugs.
Besides these features, players can also share their records via social networks or visit their friends' Mimitos to have a look at their clothes and decoration.
Mimitos Meow! Meow! is available for iOS (iPad, iPhone and iPod) via the App Store at: https://itunes.apple.com/app/mimitos-meow!-meow!-virtual/id794859457.
An Android version is currently in development and will be available soon.
Further information can be found at: http://www.mimitosmeowmeow.com
About Ediciones Babylon
Founded in 2010, Ediciones Babylon is a young publishing company with an aim to foster the talent of artists & authors. Pioneers of digital publishing, now Ediciones Babylon penetrates into a new market: videogames, app format and electronic books.
Learn more: http://www.mimitosmeowmeow.com.
Find us on Facebook: http://fb.com/mimitosmeowmeow.
Follow us on Twitter: @mimitosmeowmeow.