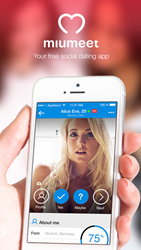 MiuMeet is for real people who want to be introduced to a world of new friends and enlarge their social circle.
Cupertino, CA (PRWEB) February 09, 2015
The more than five million people worldwide who use MiuMeet AG's no-cost live online dating app MiuMeet to meet, chat and even flirt with new friends, can now head to the App Store or Google Play and download the latest version 12.0 in order to enjoy new features like better matching and a more intuitive UI.
Named as a "Top 10 Social Networking Dating App" by Heavy.com and a "Top 5 Best Dating App for Android" by Shyandroid.com, MiuMeet uses a proprietary messaging platform and GPS location-based functionality to help people instantly start live, real-time conversations with singles in their area. It's ideal for those looking to make casual new friends, find their one true soulmate, and everything and everyone in between.
What also helps set MiuMeet apart from other dating apps -- including those that cost a fee to download and are loaded with hidden costs -- is the remarkably powerful, yet easy-to-use filtering capability. Within seconds, people can zoom in on nearby singles who fit specified age, interest, place and tag criteria. Once they've found someone who interests them, the above-noted proprietary messaging system comes to life and enables communication via text, photos and emoticons. And speaking of photos: people can easily import photos from Facebook, which is both convenient and time-saving.
Other MiuMeet key features include:

Improved matching capabilities to find nearby singles in a matter of seconds, and at anytime of the day or night.
A new, more intuitive UI that makes creating profiles and finding new friends even easier.
Daily "love horoscopes" and a fun "love match" calculator – both based on Zodiac signs.
The option for people to "like" other singles, let them know that they "may be interested" in meeting up, or politely say "no thanks" to a chat invitation.
"A lot of dating apps out there are little more than just "swipe for sleaze" efforts that are loaded with fake profiles, and really aren't worth the time to download, let alone purchase," commented Daniel Mansfeld of MiuMeet AG. "But MiuMeet is completely different! It's for real people who want to be introduced to a world of new friends and enlarge their social circle. If they decide to meet in person of take their new friendship to the next level, it's completely up to them. Simply put, whether the goal is to grow many new friendships, enjoy fun and consensual hook-ups, or find a long-term partner, MiuMeet makes it all possible -- and there are no costs or hidden fees!"
The new and improved MiuMeet version 12.0 is available now for iPhone and iPad from the App Store at https://itunes.apple.com/app/miumeet/id372421451, and for Android devices from Google Play at https://play.google.com/store/apps/details?id=com.miumeet.android.client.
Additional information, including web-based registration, is available at http://www.miumeet.com.
For all other information including media inquiries, contact Daniel Mansfeld on behalf of MiuMeet AG at daniel(at)miumeet(dot)com.
About MiuMeet AG
Founded in 2010 by an Ex-Googler, MiuMeet is a fast growing Start-Up based in Zurich Switzerland. The firm focuses on social mobile apps for iPhone and Android, including its flagship app MiuMeet.