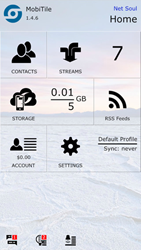 Cupertino, CA (PRWEB) July 17, 2015
This approach eliminates the need to collect and sort information from different sources manually. Output data within the platform is presented in a unified format that considerably simplifies its processing and general navigation. At present, the platform unifies Facebook, Twitter, WordPress, Instagram, Flickr services and custom RSS feeds.
The platform's most notable feature is offline monitoring of the connected sources. Monitoring includes the ability to search online feeds by user-defined keywords and phrases. Upon detection of relevant information, a Push Notification is sent to a user's device. Using offline monitoring eliminates the need for routine browsing of multiple sources and saves time for more important things.
The mtCloud™ file storage is built-in to the app, and together, with pre-connected user accounts in Dropbox and Google Drive, form a virtual RAID - Redundant Array of Independent Disks. This solution allows users to meet high demands for external space in order to perform a range of functions including the storage of images directly from social networks, publishing and sharing information with the application, as well as a one-click copy of files to multiple storages, simultaneously and without preloading them to a mobile device.
Other MobiTile™ features include: an in-app messenger, simultaneous publication and citation in multiple social accounts, supporting basic functions of social networking and customization of user devices by creating multiple device profiles within a single user account. The features are listed in full at new.mobitile.com.
MobiTile™ services are designed for both social network users and bloggers, and for industry experts, such as marketing professionals, analysts, and Public Relation specialists in the field of social media. The symbiosis of cloud and mobile technologies circumvents the traditional limitations of mobile devices in memory volume, processing power, and battery life. All of this potentially makes MobiTile™ services a very attractive proposition for vast mobile audiences the world over.
The platform is implemented on the Amazon Elastic Compute Cloud (EC2) basis. The MobiTile™ mobile app for iOS was released to present the capabilities of the service. Release of the apps for Android, Apple Mac and Windows is expected soon.
The project team is now working on improving implemented features and the expansion of the platform's infrastructure, as well as connecting new media sources to the platform.
About Alex Tur
Alex Tur, the developer of MobileTile™, has been in the IT industry since the early 80s and the web development industry since the mid-90s. As a designer and lead developer he has successfully implemented a number of news and financial projects, participated in the creation of a virtual mobile operator (MVNO). He led the development of services based on cloud file storages. Working as a Director of R&D, has created and implemented an automated information system for genetic testing in Ukraine and Russia. He has worked with companies such as Sonopia, Samsung, Genex, and others. In addition, since 2008, engaged in the MobiTile project.