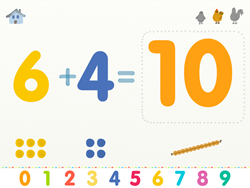 Cupertino, CA (PRWEB) June 30, 2015
After « 10 fingers + » and « Up to 100 », « More or less » is the third app from Marbotic to learn mathematics on the tablet !
With this app, children explore the concepts of addition and subtraction! Small beads are included in every activity to represent quantities. Children can manipulate them by themselves to understand addition and subtraction.
Three levels of difficulty are offered to allow children (from 6 to 8 years old) to discover these operations autonomously and gradually.
Developed with the assistance of schoolteachers and inspired by the Montessori method, the app is already available in 11 languages : French, English (British and American), Spanish, Catalan, Portuguese, Swedish, Dutch, German and Italian.
Children can understand the operations by working on different goals :

Adding or subtracting quantities
Playing with quantities
Working with complements (e.g. 3+7=10)
Complete missing number operations
In each activity, there are three modes available (free, challenge 1, challenge 2) that enable children to play in different level of difficulties. Different settings will adapt to the children's level.
More or Less, the fun new app to help children learn addition and subtraction, can be downloaded for iPad from the App Store at:
https://itunes.apple.com/app/more-or-less-learn-addition/id999799714
A dedicated version for Android tablets is also available via Google Play at: https://play.google.com/store/apps/details?id=com.marbotic.plusoumoins
Promo Codes are available to journalists on request (for iOS only).
For further information or media inquires, contact us at contact(at)marbotic(dot)fr
About Marbotic
Marbotic - based in Bordeaux, France - is the result of a double passion for pedagogy and technology. The company creates and develops educational apps for children inspired by Montessori pedagogy. It focuses on guiding children towards autonomy. This education claims that the child's natural curiosity is strong enough to guide him or her to develop knowledge and sensitivity. Moreover, the company believes that mixing digital interfaces and traditional toys leads to powerful learning experiences. Marbotic created the first wooden smart toy, 10 digits, that interact with tablets.
For more information, please visit: http://www.marbotic.fr/en