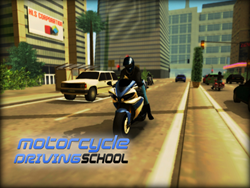 Motorcycle Driving 3D has all of the features and tools that a real simulator should have, which makes it the ideal app to help future motorcyclists head out on the open road safely and responsibly
Cupertino, CA (PRWEB) October 06, 2014
Future motorcyclists who dream of grabbing their helmet, revving their engine and heading out on the open road should definitely make a digital pit stop in the App Store or Google Play first, so they can download Ovilex Soft's innovative new no-cost app Motorcycle Driving 3D.
Designed with the same astonishingly realistic graphics as Ovilex Soft's highly popular car, bus and truck driving app School Driving 3D, Motorcycle Driving 3D lets future two-wheelers to choose from over 10 different motorcycle types – including cruiser, sport, chopper, touring and standard – so they can learn about safe and responsible motorcycle driving from the convenience of their mobile device.
Other Motorcycle Driving 3D special features include:

Astonishingly responsive steering
A speedometer to monitor speed and adjust to different road conditions
Both a career and free ride mode, which adds realism and excitement
Different weather conditions, such as rain, fog, sun and snow
Various light conditions, including day driving, night driving and morning driving
The ability to toggle between a front (helmet) view or back camera view in order to get an enhanced perspective of motorcycle physics
Left and right blinker indicators
Headlight switch
A pause button
"While obviously nothing should ever replace actual on-the-road practice in a safe environment with a qualified instructor, Motorcycle Driving 3D has all of the features and tools that a real simulator should have, which makes it the ideal app to help future motorcyclists head out on the open road safely and responsibly," commented Marusac Alexandru of Ovilex Soft. "Plus, we will be constantly adding more motorcycles and challenges in future updates!"
Motorcycle Driving 3D, the new no-cost app that helps prepare motorcyclists for the twists and turns of the road, is available now from the App Store at https://itunes.apple.com/app/motorcycle-driving-school/id916325686, and from Google Play at https://play.google.com/store/apps/details?id=com.ovilex.motodriving.
Additional app information, including screenshots and a video trailer, is available at http://www.ovilex.com/app/motorcycle-driving-school/.
For all other information or media inquiries, contact Mark Johnson on behalf of Ovilex Soft at +1 408 757 0156 or press (at)appshout(dot)com.
About Ovilex Soft
Ovilex Soft is a new games company that focuses on making the best simulators on Google Play and the App Store. With a variety of planned future projects and continuous attention to quality control, the company will became an important developer within the simulator/racing game market.
Olivex Soft also helps ensure the quality of their products by keeping contact directly with their large audience of games players via the company's site forum at: http://www.ovilex.com/forum/