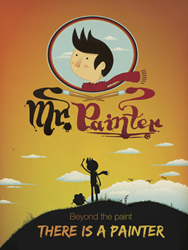 Our vision with Mr. Painter was to create something completely new that iOS users have never experienced before.
Cupertino, CA (PRWEB) July 26, 2014
After much anticipation, the inventive and creative developers at Those Pixels have released Mr. Painter in the App Store, and unleashed a unique new world of curiosity, discovery, mystery and fun.
Unlike anything that the app world has ever seen before, Mr. Painter is partly game, partly puzzle, and 100% addictive. Users must help Jepegüí Painter (a.k.a. Mr. Painter) travel through five spectacular game worlds, each with its own unique quirks and patterns. In total, there are a whopping 1500 patterns to unlock, including some that the folks at Those Pixels promise are the most insane and craziest ever imagined.
However, the goal isn't exclusively to stay awake all night solving patterns (although this is certainly part of the app's delightful appeal). It's really about unlocking the pages of Jepegüí's diary – page by page – to help him discover who he truly is. There are plenty of secrets to uncover, including some that are totally unpredictable and thoroughly unforgettable, such as how Jepegüí can adopt some features and styles of famous painters like Velázquez or Van Gogh.
Other Mr. Painter special features include:

Power-ups to help make difficult patterns easier to solve, and catch a glimpse of the next puzzle on the horizon
The ability to unlock the app's "Endless Mode" in each of its five worlds in order to achieve higher and higher scores
Integrated social networking to connect with friends and share scores via Facebook and Twitter
Outstanding graphics and sound effects that bring the iPad/iPhone screen to life
A steady stream of no-cost updates which offer new gameplay features, worlds, secrets, patterns, Power Ups and more
"Our vision with Mr. Painter was to create something completely new that iOS users have never experienced before," commented the Those Pixels team. "And with 1500 patterns ranging from very easy to ultra-hard, numerous astonishing secrets, and the chance to compete with friends and be the best, we couldn't be more excited. However, this is just the beginning. We'll be constantly sending out updates so that both existing and new users have even more reasons to love the weird and wonderful world of Mr. Painter!"
Mr. Painter, the wonderfully original new no-cost app that takes users on unique journey of discovery, mystery and fun, is available now in the App Store at https://itunes.apple.com/app/mr.-painter/id810340354.
For more information or media inquiries, contact Mark Johnson on behalf of Those Pixels at +1 408 757 0156 or press (at)appshout(dot)com.
About Those Pixels
Based in Spain, Those Pixels develops creative, unique and fun games for iOS. The company is driven to discover new ideas that surprise and delight users of all ages, around the world.
Learn more at http://www.thosepixels.com.