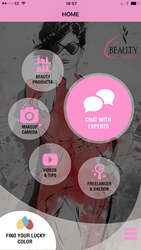 Cupertino, CA (PRWEB) July 02, 2016
Created by Diamond Choice Advertising LLC, MyBeautyClinique is no-cost app which offers users live chat with top skin, hair & makeup experts. Users can also buy high end beauty products from American and European brands, find lucky colors & many more amazing features.
In its first week of launch, MyBeautyClinique has received rave reviews and gained an incredible 55,000 Instagram followers, 12,000 Twitter followers (including over 10,000 retweets), 10,000 likes on Facebook and over 17,000 app downloads — resulting in nearly 2,000 products sold and over 2,000 user subscriptions.
The beauty industry is aggressively expanding its wings in the digital space, which can be seen in the 1000s of innovative beauty apps which are easy to install and use. However, most of these products are limited to offering general beauty tips and makeup ideas and there is a noticeable lack of beauty consultants and dermatology experts.
According to Statista, the 2015 global beauty market consisted of skin care (36.1%), hair care (22.9%) & makeup (17.3%), which clearly indicates that these are prominent areas in global beauty.
To keep pace with this digital evolution, and offer cost effective solutions, the visionary thoughts and ideas of My Beauty Clinique's founder have shaped up into reality with the exciting launch of its MyBeautyClinique app, available to download from both the iTunes and Google Play stores. No matter what time of day or location, MyBeautyClinique's experienced beauty experts from USA, UK, Middle East and Indian Ocean are available to suggest perfect solutions for skin care, hair care, makeup & general beauty.
Whereas going to a salon frequently or getting expert opinion regarding beauty advice seems difficult to many women, either due to hectic life schedules and/or monetary constraints, an app like MyBeautyClinique offers everyone affordable live chat with skin, hair and makeup experts on their mobile devices along with high quality American and European beauty products.
According to Appoon UK Limited research in London; 53% of working ladies prefer to use the internet to find remedies for skin & hair care, 37% of working ladies go to saloons but can't afford to see a dermatologist and 10% of working ladies could afford a dermatologist, but due to a hectic life schedule the majority of these don't have time to attend an appointment.
The MyBeautyClinique app also offers valuable tips, beauty related videos, in addition to access to freelancers and salons from around the world. Freelancers & salons can manually create their portfolio and publish it via the MyBeautyClinique mobile app.
The MyBeautyClinique App, a revolutionary beauty app that gained 55,000 followers on Instagram in its first week of launch, is available to download free from the App Store at: https://itunes.apple.com/app/mybeautyclinique/id1087705687
A dedicated version for Android devices is also available via Google Play at: https://play.google.com/store/apps/details?id=com.ithash.mybeautyclinique&hl=en
For more information about MyBeautyClinique, please visit: http://mybeautyclinique.com
For other information or media inquiries, contact Nick at media(at)mybeautyclinique(dot)com or +971506388904.
MyBeautyClinique is developed by Appoon UK Limited, based in Birmingham, UK.
See more details via the appshout! Newsroom at: http://d.pr/M8tx
About Diamond Choice Advertising LLC
Headquartered in Dubai, UAE, Diamond Choice Advertising LLC, subsidiary of Appoon UK Limited, is a leading worldwide digital advertising agency. DCA provides digital marketing support for public facing mobile apps to our UK and USA branches.