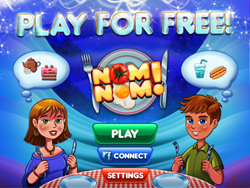 Unlike many puzzle apps that are difficult to figure out but easy to solve, NomNom! is simple to understand -- but tough to master!
Cupertino, CA (PRWEB) March 07, 2015
What happens when leading Internet gaming and marketing experts get together and take a cute and clever puzzle app concept, add a splash of "foodie" flair, and offer it to iOS, Android and Facebook users at no cost? The unique answer is found in Online Gaming Network LLC's latest creation, which is aptly called NomNom!
In NomNom!, users must serve hungry customers in 10 themed restaurants by tapping, sliding and combining tiles, so that ultimately they can serve customers their specific orders before running out of available moves.
Users who succeed head to the next challenging level -- there are over 80 in total. Based on their skill, they're also rewarded with coins, which they can save and spend in order to add a level, undo a move, remove a food item, or add lives. The more valuable the boost, the more coins it costs.
However, users who can't solve a puzzle in the maximum number of moves lose a life –and inch closer to losing the game. Of course, if they have enough coins, as mentioned above they can buy some more lives and keep playing.
Other fun features that help set NomNom! apart from ordinary, unimaginative puzzle apps include:

Helpful tutorials that show users how to play
Great sound effects and music that ranges from festive to epic (can be turned on or off)
Excellent graphics that can be toggled low or high
A vibrate mode that can be turned on or off
Plus, users who prefer to play through their browser instead of the app can head over to Facebook play with others from around the world.
"Unlike many puzzle apps that are difficult to figure out but easy to solve, NomNom! is simple to understand -- but tough to master!" commented Scott Brew of Online Gaming Network LLC. "And with more than 80 exciting levels and 10 themes restaurants, users never have to worry about getting bored. There's always another customer to serve – and a new challenge to overcome!"
NomNom!, the new no-cost puzzle app that is cute, clever and addictive, is available now from the App Store at https://itunes.apple.com/app/nomnom!/id862427438, from Google Play at https://play.google.com/store/apps/details?id=com.onlinegamingnetwork.nomnom&hl=en_GB, and on Facebook at https://apps.facebook.com/nomnomgame.
For additional app information, visit http://www.nomnomgame.net.
For all other information or media inquiries, contact Mark Johnson on behalf of Online Gaming Network LLC at +1 408 757 0156 or press(at)appshout(dot)com.
About Online Gaming Network LLC
The Online Gaming Network is a partnership of leading Internet gaming and marketing experts. With decades of combined experience and dozens of games under their belt, the OGN team is uniquely positioned to provide top-quality games with unique features and engaging game play. In addition, OGN is supported by a large community of ingame, volunteer staff. The passion and dedication of these individuals helps make each OGN game a satisfying and successful experience.