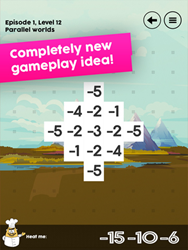 Cupertino, CA (PRWEB) December 08, 2015
Number Chef is an innovative new entry into the puzzle game genre. It features a completely new kind of puzzle gameplay mechanic, based on odd and even numbers. Players face a series of ever more challenging puzzles as they "cook the numbers" together, fulfilling the orders of the Head Chef. The game is a purely skill based with no pay-to-win possibilities – each level in the game can be solved on the first try.
"We wanted to create a new type of puzzle game - one where winning is both rewarding and challenging but not happening through luck or paying for it through real money", says Roope Rainisto, founder of Selfhug Studios.
Number Chef also features:

135 levels of hand designed puzzles
Over 10 types of different game pieces, each with their own additional rules
Challenging gameplay with no way to solve levels with payments
Polished animations and user interface, optimized for both phones and tablets
Splashes of dry written humour and wit from The Head Chef
Leaderboards and achievements, allowing players to compete with each other (available in version 1.3)
Number Chef, is now available in English for all major platforms: iOS, Android and Windows Phone. The iOS and Android versions are free to play and the Windows Phone version costs $1.29.
For more information on Number Chef, please visit http://www.numberchef.com/
The iOS version of the game is available at: https://itunes.apple.com/us/app/number-chef/id1035135393?ls=1&mt=8
The Android version of the game is available at: https://play.google.com/store/apps/details?id=com.rooperainisto.numberchef
The Windows Phone version of the game is available at: https://www.microsoft.com/en-us/store/games/number-chef/9nblggh1zg5k
For other information or media enquiries, contact Selfhug Studios at rainisto (at) gmail dot com, phone (+358) 40 7014 287.
About Selfhug Studios
Selfhug Studios is a new indie game development studio from Helsinki, Finland. Number Chef is their first official release.