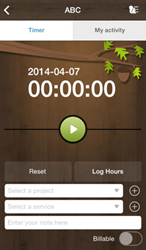 Nutcache Time Logger has completely made manual time tracking a thing of the past!
Cupertino, CA (PRWEB) May 08, 2014
Employers, employees, clients, vendors, freelancers and everyone else who knows that time is money and every second counts towards the bottom-line can now download the new and improved version 2.0.0 of the innovative no-cost time tracking app Nutcache Time Logger.
Available for both iOS and Android devices, Nutcache Time Logger lets users easily link the app's timer to any of their projects or business tasks, and automatically send invoices via Nutcache's free, cloud-based online invoicing and time management application (http://www.nutcache.com).
Plus, via the app's intuitive and elegant interface available in 10 languages (English, French, German, Russian, Japanese, Spanish, Portuguese, Chinese, Italian and Polish -- with more on the way), users can also:

Continue tracking time in the background, even when their device is turned off
Pause and resume the timer whenever they wish
Add helpful notes to their time entries
Choose to bill or not bill on any selected projects/tasks
Browse their hours worked and activity over the previous 30 days
Access and edit their full company information (entered via their online account)
And now in the latest version 2.0.0, users can enjoy a range of new and exciting features, including a redesigned Project List and Service List that contains more relevant information and multi-line input, and the ability to create new clients, projects and services directly from the app.
"Manually entering billable work isn't just a waste of time and tedious to do, but it's also prone to error which can result in significant financial losses that may never be recovered. Fortunately, our app has completely made manual time tracking a thing of the past!", commented Sébastien Boyer, Head of Nutcache's Research and Development Division. "More than that, the app is incredibly easy to use, and users can access at no cost a full suite of business features through our integrated cloud-based online invoicing and time management app. And best of all, this mobile app represents only the beginning of a broader project designed to provide a simple and free solution to advanced business challenges."
Version 2.0.0 of Nutcache Time Logger is available now in the AppStore, and from Google Play. Additional app information is available at http://www.nutcache.com.
For further information or media inquiries, contact Mark Johnson on behalf of Dynacom Technologies at +1 408 757 0156 or press(at)appshout(dot)com.
About Dynacom Technologies
Nutcache is backed up financially by Dynacom Technologies, a Canadian company with 25 years of experience and a proven track record in developing invoicing and accounting software programs that appeal to thousands of users around the world.
Learn more at http://www.dynacom.com