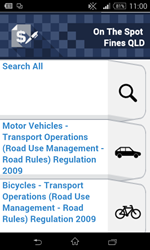 Cupertino, CA (PRWEB) August 18, 2015
Launched by Fanaticus Pty Ltd, 'On The Spot Fines' is a brand new one stop shop phone application for Australian Fine Information. The App uses real Australian State Legislation to allow users to learn about the thousands of fixed penalty Infringement notices that can be issued by Australian Police. It shows the penalty amount an offender would have to pay as well as the number of demerit points that can be attributed to a person's licence (if applicable) that Australian State Police can issue on the Spot to Australian residents and tourists.
In Australia, fixed penalty fines can be issued by Police 'on the spot' for a range of different offences including Traffic related matters, public order and liquor related offences. These fines (or tickets) do not require a person to attend court unless they wish to contest the matter. This means they are issued in abundance every day.
All Australian Police officers are only allowed to write a fine to a prescribed amount and if the penalty amount is incorrect at the time of issuing, the ticket issued will be deemed void and will have to be reissued to be valid. In some cases, due to time constraints or legal reasons, these tickets are not re written.
The 'On the Spot Fines' app was originally conceived as a means of dispelling myths about types of fines Police can issue 'on the spot' in the state of Queensland, Australia. It did not take long to see how this fine information could benefit all members of the Australian community as well as the international community who plan to travel to Australia, while additionally being useful for Law
Enforcement Agents in the field by providing fast and easy access to penalty information.
Support in Queensland very quickly caused plans to expand to other Australian States. The app has evolved into a useful tool for informing both Australian residents and tourists about the numerous number of fines that exist (including less known or uncommon offences) that people can be fined with Australia wide.
App updates are planned to occur in response to Australian Legislation changes. On the Spot Fines Australia is available now in Google Play at: https://play.google.com/store/apps/details?id=com.nge.onthespotfines
The App is also available in the Apple ITunes Store at: https://itunes.apple.com/au/app/id947254975
More information can be found at: http://www.onthespotfines.com.au
About Fanaticus Pty Ltd
Founded in 2014, Fanaticus Pty Ltd is an Australian South East Queensland Based Company. The Name 'Fanaticus' is derived from the Latin word "Inspired".
On The Spot Fines Australia is the Second project registered under the company Fanaticus Pty Ltd.