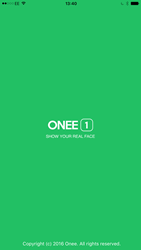 Cupertino, CA (PRWEB) July 18, 2016
Social media photo sharing is supposed fun and exciting. But there's a major problem that has reached epidemic proportions, which is that many so-called "spontaneous snapshots" are fake, staged, and anything spur-of-the-moment creations. Fortunately, there's a delightful new no-cost app that aims to fix this, and bring some impulsive joy back to the world of social media photo sharing: Onee – Show Your Real Face.
Created by Onee Sp. z o.o., Onee derives its catchy name from its most unique design feature: users only have one chance to take a photo – there are no filters, no editors, and no way to do anything but truly capture an authentic slice of life with friends, at the beach, or anywhere else. And that's just the beginning.
Because the instant the photo (which the app calls a "Onee") is taken, it's automatically made public for the world to see. There's no way to stop or undo this from happening, which adds new meaning to "what is you see is what you get".
After an hour, however, users can delete the photo and pull it offline. They can also share it on Facebook, Instagram, or send it via email/IM to anyone in their network. All photos are saved on their device's camera roll.
"Onee is the refreshing and much-needed solution to the over-produced, perfect photos that are all over the Internet and that use sophisticated equipment and filters,"commented Patryk Nowak of Onee Sp. z o.o. "But life doesn't need rose-tinted glasses, and everyone and everything doesn't have to be flawless. Reality is already beautiful and artistic, and Onee helps bring that truth to life in a unique and fun new way!"
Added Mr. Nowak: "Both professional and amateur photographers will also enjoy Onee, because as we all know, real art isn't about manipulating a photo editor or applying filters, but it's about capturing a unique moment in a one-of-a-kind environment. Onee puts talent ahead of technology, and lets people be themselves instead of trying to be someone else".
Onee – Show Your Real Face, the app that brings impulsive joy and authenticity back to the world of social media photo sharing, is available now at no-cost from the App Store at https://itunes.apple.com/app/onee-show-your-real-face/id1081388368.
View the advert at: https://www.youtube.com/watch?v=cdkMEudgdug
Additional app information including screenshots is available at: http://www.takeonee.com.
For all other information or media inquiries, contact Mark Johnson on behalf of Onee Sp.
z o.o. at +1 408 757 0156 or press (at)appshout(dot)com.
About Onee Sp. z o.o.
Founded by successful entrepreneurs Patryk Nowak and Robert Sumera, Onee Sp. z o.o. was launched in 2015 with a passionate focus to create a more authentic and real alternative to current selfie trends.
These efforts have culminated in Onee, a mobile app and social network with a new attitude encouraging users to share natural / real photographs, rather than those that have been endlessly filtered or retaken to achieve the best results.
Learn more: http://www.takeonee.com