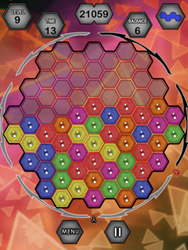 (PRWEB) April 18, 2014
New application Onkula from Intemi Games is a matching puzzle game based on a hexagonal grid. Players must rotate the grid to obtain matching colors of hexagons and gain balance points. Every rotation causes the grid to recreate new opportunities and players can select a variety of modes with special shapes to be created.
Onkula is a game for every age and everyone can play without getting bored, whilst dynamic features distinguish the gameplay from similar mobile puzzle games. The grid is divided two by an invisible line that creates left and right sides that affects balance point to change rotation direction. After scoring a point on a specific side the grid rotates and all of the small hexagons tumble - giving the player completely different combinations, challenges and potential matches. Arrows show how much rotation is needed to pass the level and the grid size changes according to game level. The game also has endless levels so players can continue playing for unlimited hours.
Onkula is available in both free and full versions; the free version of Onkula provides players with full gameplay and only level and score limits.
Onkula, the addictive and endless level puzzle game, is available now in the App Store at: https://itunes.apple.com/app/onkula/id706806044.
For more information or media inquiries, contact Salih Oktay Uzumcu on behalf of Intemi Games at intemi(at)gmail(dot)com.
About Intemi Games
Founded 2013 in Istanbul, Turkey by Salih Oktay Üzümcü - an architect with a passion for designing game concepts - Intemi Games is focused on the development of mobile and web-based games.
With a philosophy of simple and geometric design and addictive gameplay, they design games with a simplicity - yet long lasting gameplay - specifically created for mobile devices.
Find us on Facebook: https://www.facebook.com/Onkula.