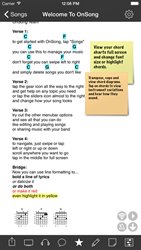 Cupertino, CA (PRWEB) January 21, 2017
AirTurn, Inc. has announced the release of the STOMP 6 — a wireless, six switch foot pedal. The STOMP 6 connects to any Bluetooth-enabled device and works with hundreds of apps to perform tasks that simplify music performance.
OnSong has just released immediate support for the STOMP 6 which allows users to configure 40+ actions per switch. Musicians can perform hands-free with digital sheet music and charts that are easy to transpose and always stay organized. For musicians looking to enhance their stage presence, OnSong can also trigger backing tracks, stage lighting and integrate with MIDIcapable instruments, including synthesizers and drum machines, effects processors and apps for complete control. OnSong is the first app to harness the possibilities of the new STOMP 6 with its rich suite of functionality. OnSong is available on the iTunes App Store for purchase on any iOS device.
The STOMP 6 is designed for the professional musician who wants to add a tablet or computer into their setup. Its all-metal enclosure is designed to mount to guitar pedal boards with a 9V power supply, but can also be used right out of the box with a standard 9V battery (included) that lasts for 100 hours of continuous use.
The STOMP 6 retails for $139 MSRP and will be available for order on the AirTurn online store.
Please go to https://www.airturn.com for more information.
OnSong is available now in the App Store at:
https://itunes.apple.com/app/onsong/id502344938
About AirTurn, Inc.
Based in Nederland, Colorado, AirTurn has been manufacturing wireless products and controllers for musicians and performers since 2008. With multiple product lines, AirTurn can meet the presentation and performance needs of a wide variety of users.
View the full Press Release in the appshout! Newsroom at: http://d.pr/XnCo