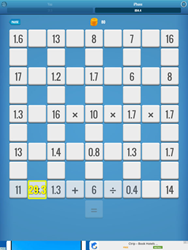 Cupertino, CA (PRWEB) December 10, 2016
Clever people looking for a unique new multi-player puzzle board game that is easy to understand, fun to play, constantly challenging, and thoroughly addictive, can now head to the App Store and download the latest creation from RappTech B.V.: Operator – Simple Math Game for Clever Minds.
As noted, Operator is easy to understand. Players start by searching for a friend to play against, or they can have the app choose a random opponent. Along the way, players can launch a chat or send instant messages to send compliments or celebrate their triumphs. This social aspect is a pleasant feature that makes the gameplay more engaging and enjoyable.
Once the game starts, the players are presented with a 7x7 grid. Various numbers are deployed throughout the grid, but certain spaces are blank. It's up to each player to decide which mathematical operator -- plus, minus, multiply or divide -- to put in these blank spaces.
The basis upon which players make this decision is what makes Operator such an ingenious creation, and sets it apart from the endless supply of predictable and boring puzzle board games. Essentially, players try to maximize their score by choosing operators that achieve the highest total (calculating the sum total of rows left to right, or columns top to bottom). Yet at the same time, players must think strategically in order to minimize their opponent's score. Otherwise, instead of surging ahead, they will actually undermine their progress and fall behind.
In addition, players who feel confident and clever can risk their coins. But they must also be careful, because the sum grows as the game continues -- which means players who triumph early and often may not necessarily be the ones who achieve final victory.
Other Operator special features include:

Clear, crisp graphics that let players focus on the game vs. getting distracted by clutter.
The option for players to create a list of friends and see if they're online when they launch the app.
A leaderboard to see which players have won the most coins.
In-game pause option.
"Operator is perfect for anyone who likes puzzle games, and wants to put their strategic thinking and math nerd skills to the test," commented Rogier van Vliet of RappTech B.V. "It's also great for parents, teachers and other educators who want to make math fun, interesting and something to enjoy instead of something to fear or avoid".
Operator – Simple Math Game for Clever Minds is available now from the App Store at https://itunes.apple.com/nl/app/operator-simple-math-game/id1140935506?mt=8.
For all other information or media inquiries, contact Mark Johnson on behalf of RappTech B.V at +1 408 757 0156 or press(at)appshout(dot)com.
About RappTech B.V.
RappTech B.V. designs and develops apps for fun for mobile devices. With a philosophy of making great games that combine tough challenges with fun gameplay, our various titles -- including "Badger", "Clever Mower", "Flag Battle", "Icon Rush", "Operator" and "Raptris" -- showcase this ethos with addictive logic-based puzzle solving, and colorful presentation.