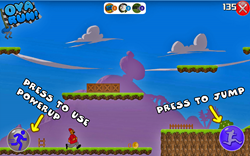 Cupertino, CA (PRWEB) February 16, 2015
Available now for Android, Oya Run With Friends offer gamers the unique challenge to elect world leaders via tests of physical endurance while they work on projects that benefit the virtual masses in exchange for their their votes.
This is the first real-time multi-player game to come out of Nigeria, where users play against their Facebook friends anywhere in the world. It is a fun and competitive game, where players select their desired candidates and race each other for points which are
then used to obtain votes to be on the leaderboard. There are also power-ups that increase the chances of winning each race.
Features of Oya Run With Friends include:
> Real-time multi-player game, players can play with their Facebook friends anywhere
> In-game store with additional upgrades and arsenal to help players beat their friends
> Leaderboard showing ranking amongst friends and worldwide
> Rich graphics and realistic arcade sounds
Oya Run with Friends is now available for Android devices via Google Play at: https://play.google.com/store/apps/details?id=me.chopup.oyarun
By downloading this game players accept the privacy policy: http://chopup.me/#/privacy
Disclaimer: The game and the characters are purely frictional, it makes no representation, imitation or mockery of any persons, groups or places any resemblance is purely coincidental.
About Chopup
Chopup is a mobile game development company with a passion for producing great mobile gaming experiences from the Africa. They believe that mobile is fundamentally changing the way the world operates and they look forward to future growth as Africa becomes more prominent in the technology revolution party.
Twitter: @Chop_Up
Facebook: /ChopUpCommunity
Instagram: @chopup_games