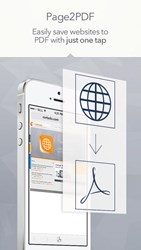 There are many reasons why it makes sense for people to save websites as PDF files. Whatever the requirement, Page2PDF makes it simple, fast and easy.
Cupertino, CA (PRWEB) November 25, 2013
People who want to easily save websites as PDF files so they can access and edit them offline, archive them for safe storage, or share them with colleagues, friends family and anyone else they wish, can now download Page2PDF and get everything they need in an innovative all-in-one new app from Cortado.
Flawlessly designed for iOS 7, Page2PDF lets users easily save websites in PDF format with just one tap of the app's built-in web browser, or by copying URLs (which are automatically pasted to their clipboard and loaded into the app). Users can also:

Conveniently save their PDF files in A4 or letter format
Instantly open their PDF files in other apps for viewing or editing
Save their PDF files locally or in the cloud via Cortado's no-cost app Cortado Workplace
"There are many reasons why it makes sense for people to save websites as PDF files," commented Carsten Mickeleit, CEO of Cortado. "For example, they may be on a flight, on the train, or elsewhere without an Internet connection, and yet still want to browse websites and make edits. Or they may want to safely archive invoices, order confirmations, and other important documents. Or perhaps they want to capture information from the web that may not be there in the future. Or maybe they just want an easy way to share content with colleagues, family members and friends via a universal format. Whatever their requirement, Page2PDF makes it simple, fast and easy."
Page2PDF, the innovative all-in-one new app that lets users easily and simply save websites as PDF files with just one tap, is available now in the App Store at:
https://itunes.apple.com/app/page2pdf/id739003557
For more information or media inquiries, contact Mark Johnson on behalf of Cortado at +1 408 757 0156 or press(at)appshout(dot)com.
About Cortado
Cortado AG – formerly ThinPrint – has delivered solutions for the modern working world since 1999. Enterprise mobility, printing, virtualization and BYOD are the main focus of the company. Cortado AG combines innovative devices such as smartphones and tablets with the customary requirements of office work, in teams and beyond space and system boundaries. As an internationally operating company, and founder of the Cloud Printing Alliance, Cortado AG employs over 220 highly skilled employees at its headquarters in Berlin, Germany and in its branch offices in the United States, the UK, Australia, France and Japan. Cortado was a winner of the 2013 "Great Place to Work®" competition and is named as one of the "Best Employers in Berlin-Brandenburg 2013."Learn more at http://www.cortado.com.