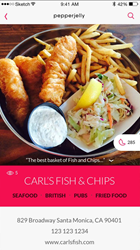 Cupertino, CA (PRWEB) January 21, 2017
Pepperjelly, one of the most unique apps dedicated to food discovery, today announced its expansion to all major cities across the nation. After a successful soft launch in Los Angeles, Pepperjelly extends its reach from "La-La-Land" to Chicago, New York City, Miami, and beyond.
With Pepperjelly, users are able to find restaurants simply by navigating a stream of photos. It's that easy. Explore the feed. Click on food that looks delicious. Find the restaurant. No more wordy or negative reviews. No more biased or extortionist nonsense. Just awesome pictures posted by real people of mouthwatering food. And the fun doesn't stop there.
With a built-in social network, users can follow friends and other foodies in order to take advice from people they know or trust. Users communicate within the app universe by "peppering" photos they fancy. And the pepper theme surfaces once again with PJ – the app mascot. Unlock rewards and PJ will gift you points to use as currency at actual restaurants.
"We are very excited to introduce Pepperjelly to a national audience," said Emily Waitt, CEO. "We are always working to improve the discovery process in order to present a user experience that everyone will love. We think the country is ready for a new player in the food discovery game and believe Pepperjelly is poised to shake up the industry."
Pepperjelly is available as a free download from the App Store.
About Pepperjelly LLC
Based in Los Angeles, California, Pepperjelly LLC was founded by friends and foodies Alex Yanke (UCLA graduate) and Emily Waitt (Brown graduate). With a philosophy to "Let the food do the talking!" their aim is to focus on good food, rather than untrusted reviews, to find a simpler way for people to discover restaurants in their area.
View the full Press Release in the appshout! Newsroom at: http://d.pr/ESrB