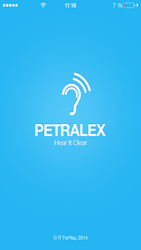 Cupertino, CA (PRWEB) March 09, 2016
Petralex is a hearing aid application that offers the same principles as a conventional wearable hearing aid — offering an increased ambient noise volume via the users mobile device and headset. The app has been identified in a recent comparative study as being the most effective & feature-rich hearing aid app currently available for either iOS or Android devices. The full study can be read at: http://d.pr/f/2mOA
Patented audio algorithms within Petralex provide the following audio enhancements:
> Noticeable loudness boost of 30dB
> Sampling rate of 44.1kHz
> Processing delay of just 6-15ms.
> Wide Dynamic Range Compressor
> Choice of the amplification formula
> Adjustment of the compression rate
This ensures the processed audio signal offers users unrivalled audio quality and hearing improvement via the considerable volume increase.
In addition, Petralex includes the following features:
> Nonlinear hearing aid
> Easy-to-use - no additional devices required and use when needed
> Quick setup for any sound environment
> Switch between device and headset microphones
> Built-in mic can catch sounds from distant sources (i.e. classroom, theatre etc.)
> iCloud profile sync
> Setup and adjust the app without visiting a specialist
> Bluetooth headset support (sound playback only)
User feedback also celebrates that Petralex offers positive emotions to users who would otherwise experience the psychological discomfort caused by eye-catching BTE hearing aids and even CIC hearing aids. The best and cheapest alternative option is earphones and hands-free, which are nowadays so common that users can receive the benefits of the Petralex hearing aid app in a discreet and flexible manner.
Petralex, the innovative hearing aid app that offers users high-quality audio processing for hearing improvement, is available now for iOS devices from the App Store at https://itunes.apple.com/app/petralex-hearing-aid/id816133779, and for Android devices from Google Play at https://play.google.com/store/apps/details?id=com.it4you.petralex.
Petralex® Hearing Aid is absolutely free to use because of user support. Users can support developers via a donation at http://www.petralex.pro/donate
Additional app information is available at http://petralex.pro.
About IT ForYou
IT ForYou is an international developer of innovative technologies in the field of speech intelligibility and audio signal processing.
Learn more at http://itforyou.pro