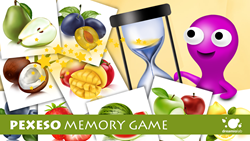 Cupertino, CA (PRWEB) August 18, 2015
People of all ages who want to boost their memory while having fun – on their own, with friends or against AI players -- can now head to Google Play and download Dreamio Lab's ultra addictive new app Pexeso Memory Game.
Featuring exquisite hand-drawn graphics, Pexeso Memory Game begins by inviting users to choose whether they want to play alone, against up to 3 friends on the same device, or against 1, 2 or 3 "smart droids" that live up to their name and are fierce competitors.
Next, users get to choose from among 6 degrees of difficulty that correspond to the number of cards from which they need to form matching pairs: 4x3 (12 cards, 6 pairs); 4x4 (16 cards; 8 pairs) 4x6 (24 cards, 12 pairs); 5x6 (30 cards, 15 pairs); 5x8 (40 cards, 20 pairs).
From there, users choose their preferred deck – such "Fruit" or "Vegetables" – and watch as the cards are dealt face down, and the countdown timer begins. If they're playing solo, users turn over two cards per round to try and find pairs as quickly as possible. If
they're playing against 1, 2 or 3 opponents (either human or smart droid), each player gets their chance to turn over two cards and find a match. If successful, they score a point and their turn continues. If unsuccessful, their turn is over for that round and the next player get a chance to match pairs.
The game is over when all pairs have been found. Each player receives their final score based on a time bonus, success bonus, and bonus points. They also receive a 1, 2 or 3 stars based on their performance.
As noted, Pexeso Memory Game features hand-drawn graphics that are delightful to look at, and qualitatively better than the rather crude, basic graphics found in most other card-matching based games. In addition, the app features excellent music that enhances the playing experience. Users who are playing late at night, in school, at work, on a flight, or anywhere else where silence is preferred can also turn the sound off.
"While card-matching apps aren't new, most of them get boring very quickly, and fail to keep people engaged and entertained," commented Premysl Cacky of Dreamio Lab. "But Pexeso Memory Game is completely different. The multiple degrees of difficulty
combined with the multiplayer mode option and tough-to-beat smart droids will keep users challenged and having fun no matter how often they play. And at the same time, they'll be improving their memory and concentration skills, which can help them in many
other areas of life!"
Pexeso Memory Game is available now at no-cost for Android devices from Google Play at https://play.google.com/store/apps/details?id=com.dreamiolab.pexeso.
Screenshots and a video trailer are available at http://www.dreamiolab.com/pexeso-memory-game.
For all other details including media inquiries, contact Mark Johnson on behalf of Dreamio Lab at +1 408 757 0156 or press (at)appshout(dot)com.
About Dreamio Lab
Founded in 2014 and located in Prague, Czech Republic, Dreamio Lab was formed by two friends; lead programmer Premysl Cacky and talented graphic designer Petra Jirinska.
Learn more at http://www.dreamiolab.com/