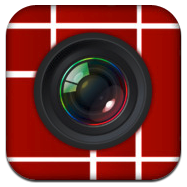 Pic N' Frame lets anyone unleash their creative side in collage building!
Cupertino, CA (PRWEB) August 01, 2013
iPhone, iPad, iPad mini and iPod touch fans who are looking to get much more out of their device's camera functionality can now download Pic N' Frame, and enjoy the App Store's most comprehensive, all-in-one photo app. Plus, if they hurry, they can take advantage of a special limited time 50% discount offer.
Developed by Tawasul Marketing, Pic N' Frame combines conventional collage building with an advanced camera mode for full frame-to-photography – and all in one convenient place. The app features 100 amazing layouts (56 normal frames and 44 ZigZag frames), over 140 borders, over 160 stickers, over 50 effects that can be applied to individual photos, and over 70 fonts.
Additional Pic N' Frame special features include:

Add photos directly from the device's camera roll
Import high resolution photos into a frame
Capture precious moments directly into the frame with or without flash
Back and front camera support
Touch and click photo taking in full camera mode
Adjust and manipulate a wide range of photo elements: color, size, text transparency, text box shape, edges, and more
Save photos to the camera roll
Share photos with friends and family via Instagram, Facebook, Twitter, Email and Flickr
"Pic N' Frame lets anyone unleash their creative side in collage building!" commented Omar Al Farsi - Innovation Director at Tawasul Marketing. "It's an amazing blend of fun, creativity and technology that transforms anyone into a photo editing wizard in a matter of seconds. Once users experience all of the benefits and features of Pic N' Frame, they'll never want to go back to settling for their device's standard camera functionality! We are committed on adding even more features and functionality's going forward"
Pic N' Frame, the most comprehensive, all-in-one photo app that blends fun, creativity and technology, is available now in the App Store at https://itunes.apple.com/app/pic-n-frame/id650713618. For a limited time, the app is available at 50% off the regular selling price.
For more information or media inquiries, contact Mark Johnson on behalf of Tawasul Marketing at +1 408 757 0156 or press(at)appshout(dot)com.About Omar Al Farsi
About Tawasul Marketing
Based in Muscat, Sultanate of Oman, Tawasul Marketing is an interaction design agency that specializes in digital & strategic marketing, integrated communication, UX, UI and experience design.
Learn more: http://www.tawasulm.com