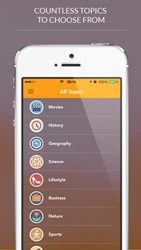 Cupertino, CA (PRWEB) August 08, 2014
Worldwide fans of Funeko's PicSo – Pic Something, and those who haven't yet discovered this refreshingly different and endlessly entertaining no-cost picture game app, can now head to the App Store and download the latest version 1.1, which features amazing new levels and generous new prizes.
Designed exclusively for iPhone, PicSo – Pic Something brilliantly blends picture sharing, challenging quizzes, fun gaming and social networking in a totally unique way. Here's how it works:

Users start by taking a new picture with their iPhone, or selecting an existing picture from their device's camera roll.
Next, they edit their picture (if they wish) to make it more interesting and less obvious. The app's built-in, easy-to-use photo editing tools include: Draw, Filter, Adjust, Effect, Blur & Focus and more.
After that, they either choose a specific Facebook, Twitter or PicSo user to play against, or they make their challenge public to anyone looking for a game.
Then, they send the photo along with a question, such as "what is the object in this photo?" or "what movie am I watching?" They can also add helpful hints, if they wish.
If the challenger guesses correctly, they earn a point. If they guess incorrectly, the sender earns a point.
Also, users can browse a variety of categories – including movies, music, history, geography, lifestyle, business, culture, TV and many more – to participate in any challenges that have been made public.
Other PicSo – Pic Something special features include:
A Leaderboard that displays PicSo users who have the most points.
The ability for each user to create a personal PicSo profile that includes all of their previous and current challenges, along with their level and point total.
A very cool "Play Random" button that lets users face a variety of challenges from different categories.
And now in the new version 1.1, users can enjoy a new ranking feature that lets them climb a level every time they earn 20 points. Plus, users win $50 whenever they earn 50 points.
"PicSo – Pic Something is guaranteed never to become boring and repetitive, because there's always a different photo and someone new to challenge," commented a spokesperson from Funeko. "And unlike other apps, users can share images and have fun playing against their friends at the same time – not one instead of the other!"
Version 1.1 of Funeko's unique, no-cost iPhone picture game app PicSo – Pic Something is available now from the App Store at https://itunes.apple.com/app/picso-pic-something/id828042283.
Additional app information, including screenshots and a video demo, is available at http://picsomething.com/.
For all other information, including media inquiries, contact Mark Johnson on behalf of Funeko at +1 408 757 0156 or press (at)appshout(dot)com.
About Funeko
Funeko is a team of motivated, professional and fun developers who are driven to create exciting and interesting apps that keep users informed, engaged, entertained and connected.
Learn more at http://www.funeko.com.