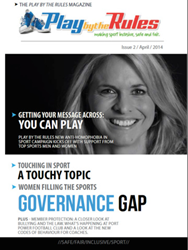 We're very pleased by the overwhelmingly positive feedback and support that Play by the Rules Magazine has received from readers across Australia and New Zealand, and even around the world, since we launched our inaugural edition
Cupertino, CA (PRWEB) October 21, 2014
Coaches, club administrators, teachers, volunteers, parents, and all others across Australia and the world who want to learn more about safe, fair and inclusive sport issues from the convenience of their mobile device, can now head to the App Store and download the much-anticipated new app for Play by the Rules Magazine.
Available for download at no-cost, the Play by the Rules Magazine app gives iPhone, iPad and Android users "anywhere and anytime" access to the same, high-quality and exclusive content available on the Play by the Rules website at http://playbytherules.net.au, and in the magazine's bi-monthly online interactive edition, including:

Long and short feature articles written by recognized experts -- such as the Australian and New Zealand Sports Law Association -- on a wide range of timely and topical issues, including: child protection, discrimination, harassment, homophobia, complaint handling, legal issues, racism in sport, disability inclusion and much more.
Downloadable codes, guidelines and templates that can be used for any level of club sport.
Promotional material to help coaches and others spread a message of inclusion, tolerance, diversity, respect and fair play, while they inspire positive cultural change in sport and recreation environments.
Online courses to help build knowledge, awareness of issues regarding fair play in sport – both on the field of play and off.
Users can also conveniently browse back issues, and share content with others in their network.
"We're very pleased by the overwhelmingly positive feedback and support that Play by the Rules Magazine has received from readers across Australia and New Zealand, and even around the world, since we launched our inaugural edition in February," commented Peter Downs, Play by the Rules manager and the magazine's editor. "And now, after months of work, we're delighted to launch the iOS version for iPhone and iPad users, as well as a dedicated Android version."
The new no-cost Play by the Rules Magazine app, which provides expert-crafted content on safe, fair and inclusive support issues, is available for iPhone and iPad in the App Store at https://itunes.apple.com/app/play-by-the-rules-magazine/id901887606.
A version for Android devices is also available via Google Play at: https://play.google.com/store/apps/details?id=com.beagadfibd.jhgbeagadfibd
For additional information including media inquiries, contact Mark Johnson on behalf of Play by the Rules/Peter Downs at +1 408 757 0156 or press (at)appshout(dot)com.
About Play by the Rules
Play by the Rules Magazine, which is edited and managed by Peter Downs, is an initiative of Play by the Rules, which was initially developed in 2001 by the South Australian Department for Sport and Recreation. Since then, the initiative has flourished into a unique collaboration between a number of leading organisations, including: the Australian Sports Commission, the Australian Human Rights Commission, the Australian and New Zealand Sports Law Association (ANZSLA), the Office of Childrens Guardian as well as all state and territory departments of sport and recreation, and anti-discrimination and human rights agencies. Together, they contribute funds, expertise, content and in-kind support.
Learn more at http://playbytherules.net.au