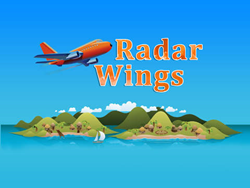 Cupertino, CA (PRWEB) September 08, 2014
iOS and Android users of all ages in search of the next fun, simple and ultra addictive new app that they'll want to keep playing over and over again, can now head to the App Store or Google Play and download Radar Wings from Easy & Tricky Games Company. Innovation should make life simple and that is the ethos behind making Radar Wings an entertaining game that anyone can easily pick-up and play.
Crafted in a similar style to Flappy Bird, Radar Wings challenges users to control the altitude of an airborne plane, helicopter or rocket by tapping their screen and navigating their respective flying machine through a unending series of "radars", which are essentially circles in the sky placed at various positions: some low, some high, some in the middle, and so on.
Each time they successfully make it through a radar, users earn a point.However, if they fail to make it through a radar they crash and fall into the ocean-- and must start again. They must also deftly avoid birds to avoid succumbing to the same fate and can score bonus points by flying through the "Bermuda Triangles" that appear after every 10 radars, while skilfully adjust to the fact that their plane, helicopter or rocket accelerates after every 10 radars, too.
Other special Radar Wings features include:

Players can choose to pilot a place, helicopter or rocket.
Outstanding, realistic sound effects that make the experience more intense and interesting
Beautiful scrolling backgrounds
Two types of music that users can toggle between (or shut off entirely if they wish)
Social sharing to connect with friends via Facebook
Leaderboard integration with updated scores
"A really big problem with so many game apps is that they're boring, or repetitive, or full of violence and not suitable for users of all ages," commented Subhash Ladda of Easy & Tricky Games Company. "And that's what makes Radar Wings so unique and different. It's refreshingly enjoyable, and because it progressively gets more challenging, users never have to worry about getting bored – there's always a new test ahead! Plus, with the fun, sweet and charming visuals and sound, Radar Wings is perfect for users of all ages. It's something the whole family can enjoy – anytime, anywhere!"
Radar Wings, the fun, simple and ultra-addictive new iOS and Android app is available now from the App Store at https://itunes.apple.com/app/radar-wings/id865079764, and from Google Play at https://play.google.com/store/apps/details?id=com.shubh_labh.radarwings&hl=en. The app is available at no-cost.
A Video Trailer can be viewed at: https://www.youtube.com/watch?v=xVsAP3uxDaU
For all other information or media inquiries, contact Mark Johnson on behalf of Easy & Tricky Games Company at +1 408 757 0156 or press(at)appshout(dot)com.
About Easy & Tricky Games Company
Easy & Tricky Games Company is founded by Subhash Ladda in 2013 to develop Mobile Gaming Apps which are easy to understand and can be played by any age group. Their philosophy is that games should be interesting and easy to understand and can be enjoyed by people instead of struggling in understanding how to play the game and following instructions.
Easy & Tricky Games Company is based out Bangalore, India and has plans to become one of the top mobile gaming app companies within India by 2020 and to entertain a global audience with multiple mobile app releases each year.
Find us on Facebook: https://www.facebook.com/pages/Radar-Wings/643603572420213
Follow us on Twitter @Radarwings