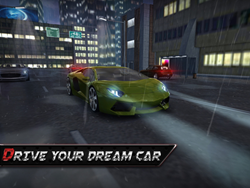 As a leader in the driving similar app field, we know that users out there are eagerly looking for something new and exciting that is both fun and challenging
Cupertino, CA (PRWEB) December 02, 2014
People of all ages who want to experience the fun, thrill and excitement of getting behind the wheel of an elite dream car can now head to the App Store or Google Play and download the new no-cost driving simulator app Real Driving 3D.
Developed by Ovilex Soft -- the same company behind a suite of acclaimed driving simulator apps that include Truck Simulator 3D, Bus Simulator 3D, Motorcycle Simulator 3D, Firefighter Simulator 3D, Motorcycle Driving 3D and several others -- Real Driving 3D lets users choose from a wide assortment of elite dream cars, and go out for an ultra-realistic racing spin through a vivid 3D landscape.
Users can choose to beat the clock, try and outrun the police, or challenge their friends via online scoreboards. Whatever their preference, they'll need to rely on deft hand-eye coordination and sharp reflexes in order to complete various challenges, achieve a range of accomplishments, and just as importantly, avoid realistic crashes that can lead to anything from a minor dent to a total demolition.
And speaking of realism: unlike most driving simulator apps that are little more than arcade games, Real Driving 3D has been designed with an ultra-realistic physics engine that is incredibly responsive, yet features simple controls so that users can get behind the virtual wheel and drive within a matter of seconds.
On top of this, Real Driving 3D features exceptional graphics, including richly detailed car interiors and lifelike scenery. The cars even come equipped with fully-operational rear view mirrors and windscreen wipers.
"As a leader in the driving similar app field, we know that users out there are eagerly looking for something new and exciting that is both fun and challenging," commented Marusac Alexandru of Ovilex Soft. "And that's why we think they'll really be impressed with Real Driving 3D. With stunning interiors, an amazing physics engine, exquisite dream cars and more, it's sure to keep users engaged – and addicted – hour after hour!"
Real Driving 3D, the new no-cost driving simulator app from Ovilex Soft, is available now for iOS devices from the App Store at https://itunes.apple.com/us/app/real-driving-3d/id936603225, and for Android devices from Google Play at https://play.google.com/store/apps/details?id=com.ovilex.realdriving3d.
Additional app information, including screenshots and a video trailer, is available at http://www.ovilex.com/app/real-driving-3d/
For all other information or media inquiries, contact Mark Johnson on behalf of Ovilex Soft at +1 408 757 0156 or press (at)appshout(dot)com.
About Ovilex Soft
Ovilex Soft is a new games company that focuses on making the best simulators on Google Play and the App Store. With a variety of planned future projects and continuous attention to quality control, the company will became an important developer within the simulator/racing game market.
Olivex Soft also helps ensure the quality of their products by keeping contact directly with their large audience of games players via the company's site forum at: http://www.ovilex.com/forum/