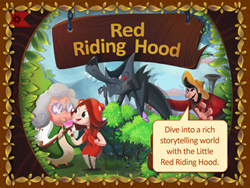 Our goal with Red Riding Hood: Multilingual was to take the classical story of Little Red Riding Hood, and re-create it for a whole new generation with unforgettable sights, sounds and interactive fun and learning
Cupertino, CA (PRWEB) March 29, 2014
Parents who want to introduce their children to the classic fairy tale Little Red Riding Hood by Charles Perrault – yet in a spectacularly new and amazing way -- can now download the no-cost app Red Riding Hood: Multilingual from ETA Studios.
Designed to take full advantage of the iPad's ultra-crisp Retina display and audio capabilities, Red Riding Hood: Multilingual features both "Read to Me" and "Read it Myself" modes, along with:
> spectacular illustrations that capture every last detail
> seamless animation that brings the classic tale to life
> a delightful music score that children can sing along with
> charming sound effects that create excitement and fun
> interactive characters that react when clicked
All of these features combine flawlessly to turn a simple story into an interactive adventure full of whimsy and wonder -- one that is sure to put a smile on the faces of both children and their parents alike.
In addition, Riding Hood: Multilingual is fully narrated by professional actors in 12 languages, including: English, French, Spanish, German, Italian, Polish, Portuguese, Russian, Romanian, Ukrainian, Chinese and Japanese (even more languages are planned through future updates). As a result, children can amuse and entertain themselves, while they learn new words -- which can open up an infinite number of academic, social and career opportunities for them later on in life.
"Our goal with Red Riding Hood: Multilingual was to take the classical story of Little Red Riding Hood, and re-create it for a whole new generation with unforgettable sights, sounds and interactive fun and learning," commented the ETA Studio team. "At the same time, we wanted to create something special that parents would enjoy, as they spend precious time bonding with their children."
Red Riding Hood: Multilingual, the new no-cost iPad app that uses amazing illustration, animation and sound to bring the classic fairy tale to life in a whole new way, is available now in the App Store at https://itunes.apple.com/app/redriding-hood-multilingual/id823586089.
Additional app information, including a video trailer, is available at http://red.etastudio.be/
For more information or media inquiries, contact Mark Johnson on behalf of About ETA Studios at +1 408 757 0156 or press (at)appshout(dot)com.
About ETA Studio
ETA Studio is an animation company from Belgium. It has 8 artists that are crafting 2D classical animation and is mainly based on 3 principles: creativity, technology and entertainment. These skills leads the studio to achieve a unique visual animation experience. The team is working on animated fairy tales for kids in which way it gives a completely another dimension of entertainment quality,language learning and education.