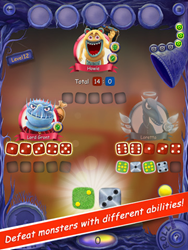 Reiner Knizia's Dice Monsters" expands Timecode's portfolio of high quality applications
Cupertino, CA (PRWEB) February 08, 2016
Timecode, developers of games, mobile and server applications, have just released the launch version of "Reiner Knizia's Dice Monsters" on iOS devices -- a unique dice game designed by prolific board game designer Dr. Reiner Knizia.
"Reiner Knizia's Dice Monsters" is available from the App Store on iPhone, iPad and iPod touch at: https://itunes.apple.com/app/reiner-knizias-dice-monsters/id915046203
The gameplay requires players to combine dice in the optimal way and win battles against hilarious monsters in 5 different worlds. A player will fight "combination monsters", "total monsters", "pixies" and other kinds of opponents, while learning new monster's abilities while progressing through the game. There are also boosters revealed to the player gradually, to compensate new monsters' powers. At the final level of each world there's a boss fight. Winning the fight will award the player with a new die with special abilities, such as a die with 7 pips, a steel die protecting from monsters' swords, and others.
"Reiner Knizia's Dice Monsters" was released for a soft launch in Q4 2015. Since then, the levels have been balanced for best progression and new features were added according to players' feedback such as Eternal Life available as an IAP.
The game was designed by Dr. Reiner Knizia, a highly skilled game designer having created over 600 published games, won the Deutscher Spiele Preis four times, a Spiel des Jahres award, and numerous other national and international awards. There are more than 40 of Dr. Reiner Knizia's games available in the App Store.
"Reiner Knizia's Dice Monsters" expands Timecode's portfolio of high quality applications, including the "Totems: Game of Conquest" original board game, featured on App Store; "Snow Queen" an enchanting interactive children's book based on the award-winning Hans Christian Andersen fairytale; a beautiful visual word puzzle "Kaleidoscope"; and recently released "Twist & Pop," unique match-3 puzzle game.
To learn more about "Reiner Knizia's Dice Monsters", visit http://timecodegames.com/products/dicemonsters/ or the Facebook page https://www.facebook.com/Dice-Monsters-956210981083658/
Download "Reiner Knizia's Dice Monsters" for iPhone & iPad now from the App Store:
https://itunes.apple.com/app/reiner-knizias-dice-monsters/id915046203
About Timecode
Established in 2010, Timecode is a Kiev-based developer of games, mobile apps and server-side software. The core Timecode team has been together since 2005, with a strong focus in games, entertainment, dedication to art and a unique approach to design.
Timecode has self-published 5 mobile games, 2 more original games are under development, coming in 2016.
About Dr. Reiner Knizia
Dr. Reiner Knizia is one of the world's most successful and prolific game designers. More than 600 of his games and books have been published worldwide in over 50 languages. With sales exceeding 20 million copies, he has also won numerous international awards.
Press Contacts:
press(at)timecode(dot)com